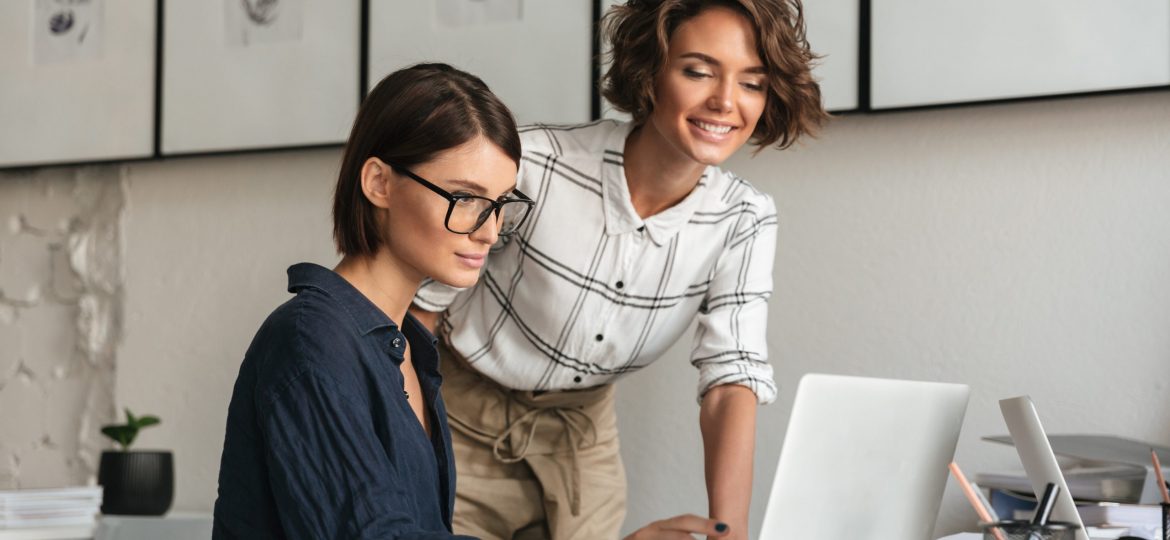 We like to guide students in their career in recruitment so we periodically organize volunteer programs. Even though in some companies training courses for students were canceled with the context of the pandemic, the BIA HR team became aware of the students' need to gain experience. He adapted the volunteer program to the online environment and we started it last year with the HR Summer Experience attended by Miriam Cazacu. The second volunteer program has been organized between September and December 2020, attended by Daria Biriuță, and the most recent program, called HR Spring Experience, was developed between March and May 2021.
We start these training programs for young people whenever we identify, in the workshops and webinars organized for the academic environment, students who show their curiosity about recruitment. So it is important to have students eager to gain experience and we believe that it is much more effective to have only one participant per session, so that we can dedicate ourselves to him and be sure that he is left with useful information after the meetings.
WHAT YOU SHOULD KNOW ABOUT SELECTION CRITERIA
In selecting the participants in the volunteer program, we carefully follow their desire to learn, their curiosity, and their motivation to start a career in HR. Interested students can send us an e-mail to recrutare@bia.ro in which they can express their desire to gain experience in the recruitment department, and
and based on the analysis, we will decide the person who has the necessary skills to work in HR and we will guide her to take the first steps in this area.
WHAT WILL YOU LEARN IN THE VOLUNTEER PROGRAM
Both in online meetings and in physical meetings we develop the following topics:
Proper use of Outlook

Correct use of the Office suite (Word, Excel, PowerPoint)

Use of job boards (Bestjobs, eJobs, Hipo)

Creating a personal profile on LinkedIn and the importance of the personal brand in the field of recruitment

Customer Care (the relationship we build with the candidate and the client)

Detailed presentation of the flow of recruitment process in a company specialized in human resources (identifying the client's need, creating the recruitment announcement and correctly identifying the recruitment channel for promotion, CV screening, research, telephone interviews, face-to-face interviews, creating the profile of the recommended candidate, etc.)

The importance of mastering the procedures for the processing of personal data (GDPR) in the activity of human resources 

Human resources department within companies – role and structure

Tips & Tricks for creating a professional resume, a cover letter, as well as a LinkedIn profile.
In fact, the online environment and the epidemiological situation have limited our face-to-face interactions with students in the last year. "In physical meetings things were different, students could participate in face-to-face interviews or could participate in solving various situations, while online is harder, but we adapt ourselves," says Georgiana Mirica, Senior HR Consultant at BIA HR. But with the return to the normal situation, the experience in the volunteer program will be definitely more practical. 
HOW THE BIA HR VOLUNTEER PROGRAM HELPS YOUR CAREER
"We strongly believe that this 3-month trip can help them find a job in recruitment more easily. For example, our former colleague Cristina Crețu, was part of our team during an internship lasting 3 months in 2019  (during which she learned the HR challenges and how to recruit) later got involved in the human resources field and now she still professes in the field", says Georgiana Mirică Senior HR Consultant.
Raluca Cojocariu, the most recent graduate of the volunteer program, told us about her experience at BIA HR.
WHAT Commanded YOU TO APPLY TO THE BIA HR VOLUNTEER PROGRAM?
 "I had the pleasure to participate, during 3 months, in the HR Spring Experience program. At first, I didn't know what to expect because it was something new, an area I hadn't had much contact with in the past, but after Cristina told me about what I would learn in this program and what was its purpose, I was excited to find out more."
HOW WAS THE VOLUNTEER EXPERIENCE IN HR, CARRIED OUT EXCLUSIVELY ONLINE?
"The first meeting with Georgiana Mirică, Senior HR Consultant, was developed online. It would probably have been another impact if all the meetings, or at least part of them, were face to face, but Georgiana did a great job in the current situation. Even though I was a little shy at first, Georgiana made it clear that I was in a friendly environment, where she shared her experience in order to help me develop my career. 
She behaved professionally, but she didn't forget to treat me like a friend by inserting small discussions and tips & tricks during the meetings that made the whole atmosphere friendly. I had her understanding and support during this period, changing her schedule according to my needs and problems and constantly adapting to my curiosities.
The most important thing for me is that my mentor in the volunteer program was able to explain and help me understand things specific to human resources, although I was not specialized in the field. I don't think she ever needed to insist on a subject because she was able to explain clearly from the beginning."
WHAT DID YOU LEARN DURING THE VOLUNTEER PROGRAM?
"During these 3 months, I have discovered things I didn't know, situations I would have encountered only in the work environment. This training will help me when I get hired, now having the ability to properly and safely manage situations.
After this period, I know how a correct resume should look like, in order to attract the employer's attention and about how to analyze the resumes from a recruiter's point of view. I learned how to manage situations and how to collaborate with people, regardless of their typology or personality. "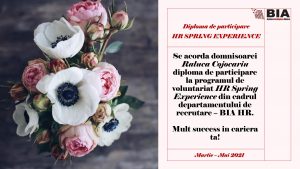 WHAT DO YOU SAY TO YOUNG PEOPLE WHO WANT TO FOLLOW A RECRUITMENT VOLUNTEER PROGRAM WITH THE BIA HR TEAM?
"I recommend this program and all the experience, both for all the wonderful and important things I had to learn, and for the warmth and friendship shown by both Georgiana and Cristina. They explained to me and rhey were with me during these 3 months.
If you have the opportunity to participate, do not hesitate! You have a lot to learn in a short time with wonderful people ready to share their experiences with you.
Georgiana and Cristina, thank you from my heart for this beautiful experience. You are people with whom everyone has something to learn, they just have to want it. I hope to meet you soon to share our experiences and enjoy them. "
You too can be part of the BIA HR volunteer program. All you have to do is send us an e-mail and your resume showing us your desire to learn the specific skills of a recruiter, detailing the studies and courses you consider relevant to qualify, as well as your skills. You can differentiate yourself by creating personal online branding and by paying attention to writing your resume. The BIA HR team is waiting to meet you!
Read also:
First impression matters. How to write a resume that can bring the desired first job