Between July and October 2020, we were happy to have with us Miriam Cazacu for this year's edition of the HR SUMMER EXPERIENCE. A student at the Bucharest University of Economic Studies, she chose to spend her summer together with the BIA HR recruitment team. The team shared from their experience and talked about what building a career in HR can entails. They also went into details about the sequence of activities that happen inside the recruitment department of a company specialised in HR services.
"We strongly believe that it is essential for private companies to get involved and contribute to the educational process of future professionals. Without a strong connection between theoretical and practical elements, we can't really expect young people to have quality education. This can later translate into a more difficult integration in the labor market. We always welcome young people looking to learn more. We help them grow their skills and we do our best to share our knowledge and experiences with them. It was a pleasure having Miriam with us and we trust that the time she spent with us will prove useful in building a successful career," shared Cristina Scarlatescu, BIA HR Recruitment Manager.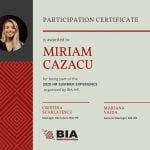 Participating in this type of learning experiences helps students gain a better understanding of the jobs they are preparing for and improve their self-confidence. It can also makes it possible for them to reach beyond that and explore and expand their interest areas. The way this happens if through the interaction with other departments inside the host companies. For companies, the advantages are related to creating a strong employer brand while also building a network of potential candidates with which a positive experience already exists.
"All specialists have had to begin somewhere; they have all been beginners at some point. This thought has given me the motivation and the courage to try out a learning experience like the one I had with BIA HR SUMMER EXPERIENCE. It was the perfect occasion for me to observe and get involved in recruitment processes under the guidance of a team of professionals. I discovered exceptional people, always willing to encourage me and share from their own experiences," Miriam shared about the time spent with the BIA HR team.
For those interested in pursuing a career in HR, we have created the Professional Profiles series – you can read the interviews on the BIA HR blog[/vc_column_text][/vc_column][/vc_row]