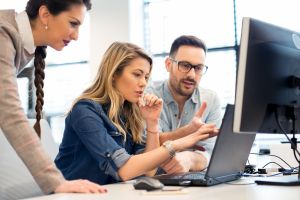 BIA provides total or partial outsourcing solutions for
payroll and personnel administration
. Depending on your company business needs, we take over payroll activities like the ones listed below, but not limited to:
Verifying documents – timesheets, bonuses, annual leaves, sick leaves;
Salary calculation and employer taxes calculation;
Generating payroll and specific reports (tally-sheet retention, sick leave calculations, sick leave tally-sheet, tax list per working point, FNUASS request, etc.) and accounting notes;
Filling out and submitting statistical reports;
Preparing bank files;
112 statement preparation;
Management of meal vouchers;
Generating secured pay-sheets and ensuring the secured online access to them, and also to the personal employee' space.
Personnel administration services provided by BIA refer to:
Audit of personnel files;
Preparing individual labor contracts and additional documents;
Decisions and employee departure clearance form;
Preparing and transmitting the electronic register of employees (ReGES);
Filing of certificates and receipts;
Relationship with the competent authorities;
Operational assistance.

Why you should outsource payroll and personnel administration activities
More time for activities designed to develop the business and the human capital of the organization
Human resource managers will still have to carry out routine operations related to personnel administration, and the quality of these services will increase, due to the fact that they are entrusted to a specialized company.
Permanent support in labor law or financial legislation
Human resources specialists must always be documented about legislative changes. Because employees of an internal HR department must perform daily activities such as recruitment, evaluation, or other specific things, it is very difficult to monitor this aspect as well. BIA specialists, among which 7 certification experts in labor law, are always up to date with changes in labor law or financial legislation, so they can provide our partners with all the support needed.
Flexibility for new activities or territorial development
The outsourcing of payroll and personal administration services also brings more flexibility in adding new business activities or territorial development. Confidentiality is enhanced when an important part of these processes is transferred. At the same time, there is greater predictability of costs: they are clear from the start and accompanied by predefined budgets, as opposed to cases where you operate with your own staff.
Having your own employees entails salary costs, bonuses, meal vouchers, training, team buildings, specialized software acquisition, IT equipment, office infrastructure, office supplies, office rents or even employee fluctuation costs. The outsourcing of payroll and personal administration services greatly reduces these costs and also streamlines the entire HR process.