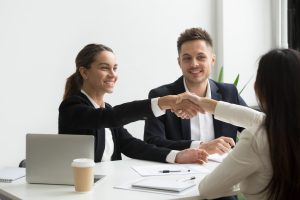 Outsourced HR Manager, dedicated to your team
You are in the moment when you feel overwhelmed by the administrative activities in the business and you would need a specialist to take over the activity of budgeting, payroll and personnel administration, disciplinary research, and recruitment. Maybe you don't want to wear so many "hats" for each of these activities, and you would like to have a professional in charge of them so that you have more time to deal with business development plans.
You have identified the need for your business, but who will handle all these roles? Maybe you're thinking of an office manager, an operations manager, an accountant, or a payroll specialist. All of these roles evolve into HR Managers as the business grows, but often colleagues are only specialized in a niche and may not have knowledge of labor law, active recruitment, the need to audit staff files, or they don't know the steps of a disciplinary investigation.
The first impulse is to internally recruit an HR Manager, a person with experience in similar roles. But have you ever asked yourself if this person will have the opportunity to bring value to the company, to help increase people's motivation by identifying the right roles, and the benefits they want? Will he have the opportunity to use his creativity to create memorable experiences for employees and employer branding campaigns or will he just have an operational role? If the answer is: he will have an operational role, you can expect the in-house HR Manager not to have the motivation to do administrative activities in the long run. But now you have the option to choose an Outsourced HR Manager.
BIA has all the necessary skills to take over the activity of an HR Manager.
BIA offers the HR Manager function, upon request, to companies that have not covered this position internally. The BIA team has all the skills and expertise to ensure:
Budget support;
Payroll and personnel management;
Audit and preparation of the Internal Regulations and job descriptions;
Support and creation of an evaluation system;
Support in disciplinary research;
Recruitment support.
OUTSOURCED HR MANAGER ADDRESSES:
Companies with up to 50-60 employees;
Multinational companies that do not have such a position in the organizational chart in Romania;
Romanian companies that have outsourced human resources services;
CEOs or business owners who are still undecided whether to recruit an HR Manager, not being convinced of the added value it brings to their business.
Outsourced HR MANAGER IS AN OPTION WHEN:
it's too expensive to have a full-time HR Manager;
punctual projects are to be managed in an efficient way;
you need the expertise of professionals who are aware of changes in the labor market.
DECIDE IF AN Outsourced HR MANAGER IS SUITABLE FOR YOUR COMPANY BY THE FOLLOWING QUESTIONS:
Does the in-house human resources team have the necessary skills to deal with both administrative activity (budgeting, payroll and personnel management, disciplinary investigations, and recruitment), as well as employee motivation, retention programs, and employer branding campaigns?
Will the CEO and top management team support and pay for an Outsourced HR Manager?
Is the human resources team able to make the transition to an Outsourced HR Manager and can this team manage the outsourcing relationship?
What type of outsourcing solutions would best suit your company?
ANALYZE THE BENEFITS OFFERED BY AN HR MANAGER, OUTSOURCED BY BIA:
Expertise – The BIA payroll, human resources consulting, and recruitment teams have over 15 years of experience working for national and international businesses, and during this time they encountered complex situations, adapted, and found solutions to solve them. These experiences gave them the opportunity to evolve and gain expertise. An in-house HR Manager may not have had the opportunity to deal with such diverse situations in his work.
Ongoing support in labor law or financial law – BIA specialists, including 10 certified labor law experts, are always up to date with changes in labor law or financial law so that they can provide all the necessary business support.
Recruitment support – The expertise of the recruitment consultants, but also the extensive and up-to-date database of BIA will add value in filling the vacancies within your company.
Efficiency – You will be able to focus on the business and its development, without having to carry out routine operations related to payroll, personal administration, evaluation, and disciplinary investigations. In addition, the quality of these services will increase, thanks to the fact that they are entrusted to specialists with extensive experience in these activities.
Confidentiality – We care that the information we share will remain confidential and will be limited to the parties directly involved in the contract.
Low Cost – Hiring an in-house HR Manager can often be costly compared to hiring an Outsourced HR Manager. Having your own employees entails salary costs, bonuses, meal vouchers, training, team buildings, specialized software acquisition, IT equipment, office infrastructure, office supplies, office rents, or even employee fluctuation costs. Outsourcing the HR Manager function considerably reduces these expenses and implicitly streamlines the entire HR process. In addition, with a team of specialists, you prevent litigation and related costs.
Now you don't need to hire an internal HR Manager, BIA has all the necessary skills to take over the activity of an HR Manager.