Engaged employees, that you can rely on long-term, people who understand and respect the company`s objectives.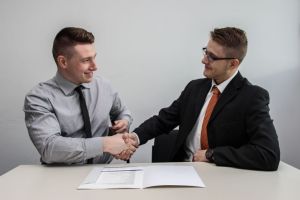 Yes, every manager wants them and they are vital for any kind of business. So… how do you get that? Well, just tell them a story that brings them "on board". And you tell your story during the first interview, on their daily agenda, at each gathering or general meeting.
You repeat that on flyers, brochures, internal newsletter and all kinds of posters inside the organisation. You try to make them feel part of this story with each teambuilding and Christmas party that you put on. All that means budget that can pay of or not.
Why?
Because there is one more story your company tells its employees, and your people are extremly  attentive to it. This story comes straight from your HR department. And if it`s well told, you`ll get lots of benefits:
Enthusiastic people
Long-term engaged employees
Proactive employees that are aware of their work`s meaning
A functional and united team
Risen productivity
Whole-heartedness, durability predictability, performance recognition
In a way, all you ask from them, they`ll expect to receive from you. As in any relationship, communication goes both ways and words are simply not enough. It`s your job, as a manager, to set the terms of this relationship and the way it`s heading to.
Believe it or not, you talk to your employee about how seriously you take your work relationship each time his money or table tickets get on his credit card in time. It really is the best way to show him he`s part of an onest, trustworthy company that can offer him safety.
You talk to him at the very beginning about what`s expected from him, what are his tasks and objectives, how he`s supposed to achieve them, what are the rules and priorities that he should take as guidelines. And if things go wrong, you stay aware of all that and taken on if the situation happens to be a result of the way you built that system.
You show him your appreciation of his intelligence and engagement by offering him some sort of benefits: lunch coupons, a special insurance or a gym subscription that may improve his way of living.
He gets he`s part of a future oriented company when you allow him to enjoy the benefits of working remote, having a flexible schedule according to his speed of acomplishing tasks. Even offering him the chance to take a longer than usually agreed vacation.
But what if you don`t manage keeping up with all this, continuously and fairly evaluating the balance between what your employee has to offer and his expectations?
You lose the know-how of valuable employees as they chose to search a better job somewhere else
Hiring costs rise
Training costs rise
Some people come, some people go is not exactly the image of a great team.
Productivity decreases
The working environment gets less appealing
Now, honestly speaking, do you think you have the time to manage all that while you`re also trying to focus on the big picture of running a business? Do you feel ready to lose time and money for rebuilding your team again and again? You have a lot to gain if you come and work with a HR company and benefit their expertise and proffesionalism in HR consultancy, payroll and personnel administration.
BIA Human Resource Management Services is an experienced partner that can help you tell the story of your team just as you intend to: with clearness, coherency and steadyness. No matter what you need us for: preparing Internal Regulations, analyzing positions within the organization and drafting job descriptions, salary calculation or management of meal vouchers, we`re here for you. Send a message on biaoffice@bia.ro and come have a talk with us.