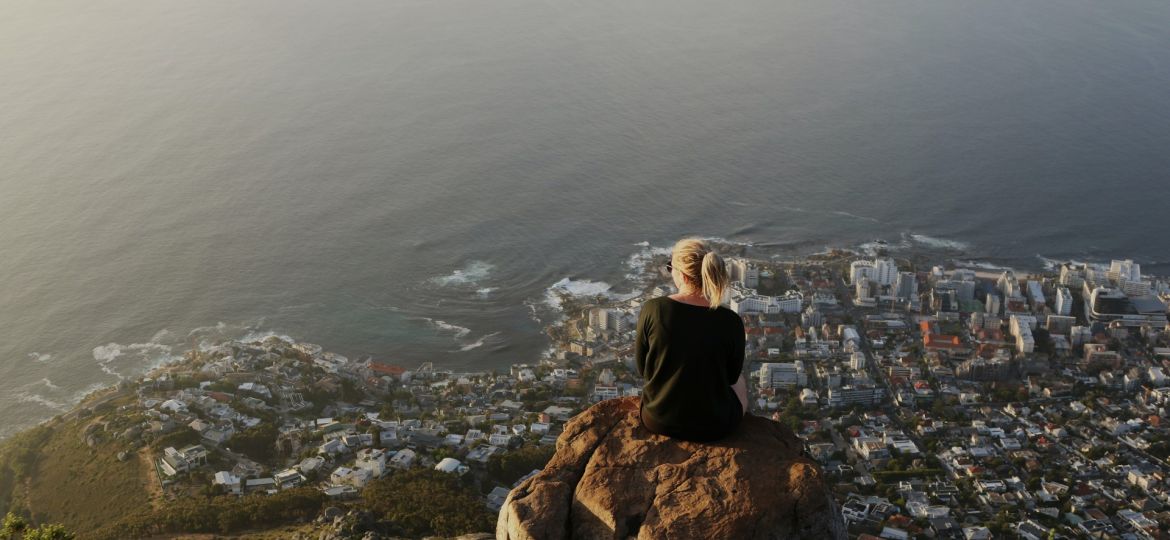 She has over 15 years of experience in recruitment, both in human resources consulting companies and in banking or business development companies. Andreea started on this path with her passion for psychology and working with people. She gladly and curiously accepted challenges that may have been outside his specialization, but which opened up a perspective on recruitment and the impact she can have in this field. She is now responsible for BIA HR national and international recruitment projects, but she also has her own initiatives, supported by the company's management. Andreea trains managers and guides candidates in finding their job, but also the right career direction.
What were her first recruitment projects? What experiences were very important in her training, but also what strategies does she have to face the challenges in the labor market? You can find out all the details from Andreea Dumitrescu, BIA HR Senior Recruitment Manager.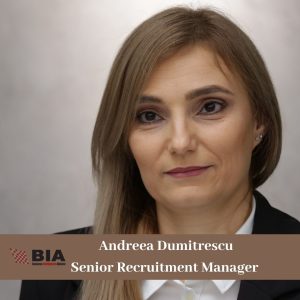 What motivated you to choose a career in recruitment?
After graduating from high school I decided to study at the Faculty of Psychology because I wanted to work with children. I was involved in various specialization and volunteer programs, but the challenge came in the field of human resources, with the first recruitment project. Together with two of my college colleagues, I organized an evaluation center for the position of Assistant Manager within a production company. I enjoyed interacting with people, noticing how they react when answering questions, and seeing different human behaviors and typologies. The positions I have held so far have been complex, I have never only recruited, I have managed recruitment processes, I have coordinated departments, I have developed client portfolios, and I have organized training and career counseling sessions.
Tell us about your career as a Senior Recruitment Manager. What were those experiences that trained you for your current job?
The first position, as a Human Resources Consultant, was for a consulting company from Cluj that opened a branch in Bucharest. It was a beautiful period, in which I was involved in evaluation centers, and training I represented the company at job fairs. After a few months, within the same company, I held the position of Bucharest Branch Manager. I was responsible for both the office and the clients, the team I coordinated but also for the projects. Another beautiful period followed, within BIA HR. The first 2 years at BIA HR were the years that shaped my career with projects from various industries, with national and international recruitment projects. It was an intense experience after which, I wanted to work in-house and I was part of the Recruitment Department of Alpha Bank Romania. Then I accepted the position of Human Resources Manager within Smartree Romania. After 6 years I returned to my first love – BIA HR. Each experience has left its mark on the person and the consultant who I am today and counts on collaborating with many clients, candidates, and the team I coordinate.
What was the best moment so far in your activity at BIA HR? But the most difficult?
There are many beautiful moments in my work, from active collaboration with my colleagues to meetings with business partners and events organized by BIA HR.
Recruitment is a daily challenge. Working with people is a responsibility. There are also beautiful moments, when I send good news to the candidates and bring a smile to their face, but also less pleasant moments and here I am referring to the negative feedback I have to send or get after the interview.
What challenges do you face in recruiting now and how do you deal with them?
If a few years ago I got dozens of applications from ads posted on job platforms, now this is no longer the case. I use direct search in most projects to find the right candidates, and unfortunately, this increases the length of a recruitment process. Active communication with business partners and candidates helps me manage time.
Another aspect is the "battle for talent" and here I am referring to the counter-offer made by the current employer when the employee wants to leave.
What are those skills that help you in your job?
Determination, ambition, patience, and empathy helped me a lot in my job. The interviews with me are not "a shot of questions", but a conversation from which I can later gather enough information to draw the candidate's profile.
What advice would you give to a young person who wants to work in recruitment? What steps should he follow?
It's important to understand that he needs time to build his career, that there are steps he needs to take, and most importantly, to have the patience to "grow" in a human resources department. One of the best ways to get a job is to choose an internship program, to show that you are motivated, and not to give up easily.
What should customers who want to work with you know?
I am an ambitious person and I use all the resources at my disposal to successfully complete any project. Communication and partnership are two aspects that should not be missing in the relationship between consultant and client.
Describe a situation that has brought you satisfaction in your work.
I'm glad to receive a "Thank you!" from candidates and clients when projects are completed. I'm glad to see that the recommended people are evolving professionally in the companies where they were hired when I read on Linkedin about the new projects they manage when I receive messages with specific wishes around the holidays.
One project that brought me satisfaction was the organization of training with the theme "Selection and Recruitment" for all managers of an important player in the banking field. The training took place nationwide for 6 months.
In March of this year, I started a project very dear to me, "Refresh your Career", through which I offer career counseling to 45+ people because I noticed the difficulty of these people to get hired, their fear that they don't have the necessary skills to an online interview, but also the burnout of many candidates after two years of the pandemic.
How is the labor market for 2022? What do you expect from candidates? What aspects would you like to see changed?
I believe that 2022 will be the year of adaptation and there will be other challenges in the labor market, caused by both the pandemic and the economic situation following the war. Many companies will want to return to the classic office work schedule, gradually giving up hybrid work. But it's important how this transition is made and how long it will take. The distance from home to work will be a selection criterion for candidates when they want to change jobs.
As in previous years, the professions for which there is a high demand from companies are IT, finance, and construction.
I would like to meet applicants who have carefully read the recruitment announcement. I know that there are people who are unemployed and who hope that by applying to any ad they may be contacted. I think that a better solution would be to send us your CV directly and give us some details about the difficulties encountered in finding a new job.
Do you have favorite mottos that have opened up a new career perspective for you?
The quotes that inspire me are:
"Success seems to be connected with action. Successful people keep moving. They make mistakes, but they don't quit. – Conrad Hilton
"There are only two ways to live your life. One is as though nothing is a miracle. The other is as though everything is a miracle." Albert Einstein
What do you like to spend your free time, and give yourself energy for the job?
I take my energy for work from simple things, from a walk in the park, reading an article from the HR field, or simply stroking my pets.
I am passionate about Asia, I like to travel to countries like Japan and Singapore, which impressed me with their culture, people's mentality, landscapes, and technology.
Read also:
PROFESSIONAL PROFILE: ANDREEA RALUCA LUNGU, BIA HR HUMAN RESOURCES ANALYST
HR Professional Profile: Cristina Scarlatescu, Recruitment Manager BIA HR