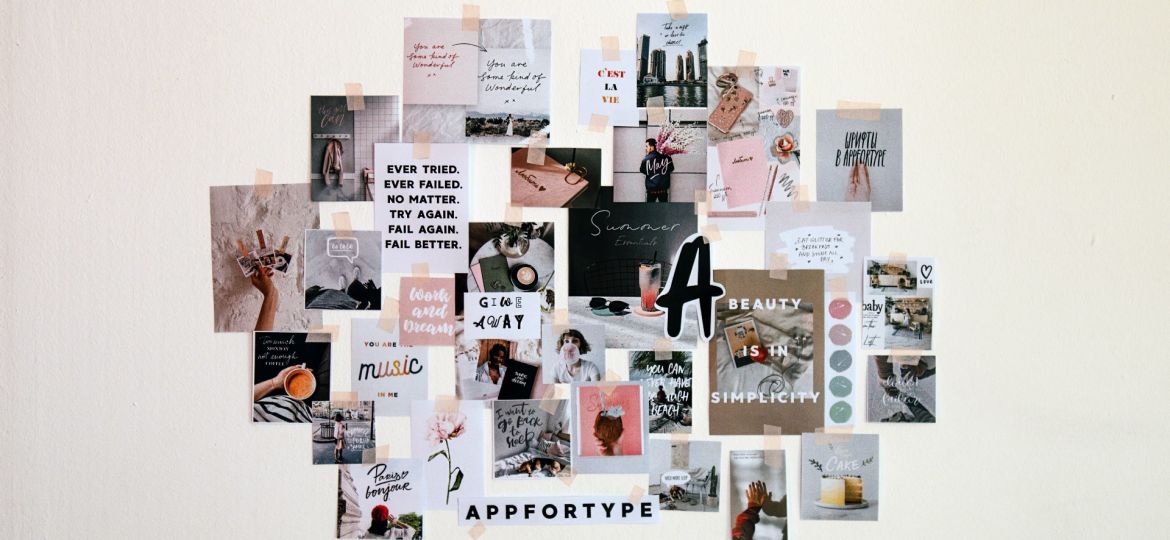 The career journey begins with you. You are the author of the itinerary and you have an important mission during it. That of constantly learning from experiences, of overcoming obstacles, accepting that they are part of knowledge. It is the approach that defines Bianca Matei so well, our colleague, HR Consultant at BIA HR.
Although she is a graduate of journalism, with a master's degree in communication and public relations, she didn't want to follow faithfully the path prescribed by the faculty, but she allowed herself to experiment with jobs in different fields and to learn from each one the skills that today, in the BIA team allow her to bring value in collaboration with business partners.
Her career perspective and well-defined plans have been the basis of her evolution from HR Referent to HR Consultant, and more recently, Bianca is also responsible for the well-being and joy of the team. She develops wellbeing programs with Georgiana Mirica, Senior HR Consultant. Where does she get her inspiration to approach any situation creatively, what motivates her to come to work with energy and and to energize his colleagues as well, you can find out from Bianca in the following interview!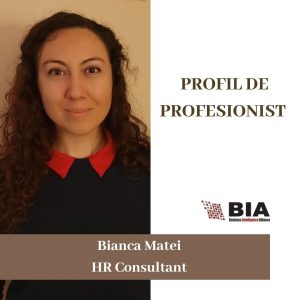 WHAT DETERMINED YOU TO CHOOSE A CAREER IN HR CONSULTING?
I first worked as a contact person within BIA HR, in the operational support area. I came to a point where I felt the need to choose between a satisfying, short-term perspective, but with no great options in the future, and one that offered long-term prospects, even if it was challenging in the short term.
that stepped me out of my comfort zone. I chose a long-term career and development, as I always tried to stay open to what was coming my way, keeping an eye open for the future and flexibility in adapting to the environment. An essential role in my training was played by my colleagues Mrs. Doina (Doina Dinu, Human Resources Specialist) and Mariana Vaida (General Manager), together with the whole team I am part of.
TELL US ABOUT YOUR PROFESSIONAL PATH. WHAT WERE THOSE EXPERIENCES THAT TRAINED YOU FOR THE HR CONSULTANT Role?
In high school I studied mathematics and computer science. Although I didn't like math (and it seems it didn't particularly like me), I was fascinated by computers, especially software, databases, video editing, html, and I really enjoyed practicing theater as an extracurricular activity. Because in acting you risk starvation, or so I kept hearing, I studied journalism, and then communication and public relations. I practiced in newspapers, on local television, always being passionate about interaction with people, arts and culture.
Somehow, I always imagined that I would work in the field of communication, in one form or another. Apart from internships, I did not work during college. However, in the midst of the economic crisis (in 2009), I ended up looking for a job to support myself during my master's degree. I had no relevant experience so I lowered my expectations, accepted entry-level jobs and worked hard for every success, as much as I was good at every stage.
At a cadastre company I learned the responsibility of the work schedule and the accurate operation of the data. In a real estate company I learned to offer the support of my colleagues, to work with outsourced services, how to use the internet to my advantage. In a sweet snack factory I learned everything – secretarial activities, event organization, fee and contract negotiations with suppliers, a little marketing and I started to practice human resources, where I am still. The most important lesson of all these experiences is: Never stop learning! Never stop learning!).
WHAT WAS THE MOST BEAUTIFUL MOMENT SO FAR IN YOUR ACTIVITY AT BIA HR? BUT THE MOST DIFFICULT?
In addition to job satisfaction, I especially appreciate the interactions with each colleague. I found support and resources in the BIA team to develop myself and I learned something from each one. I appreciate even more how we managed to stay close,  as team in the moments of uncertainty, brought by the pandemic, when we had to adapt our processes to new ways of working. Together we have overcome the challenges launched by the authorities or as a result of legislative changes.
WHAT CHALLENGES DO YOU HAVE NOW IN ACTIVITY AND HOW DO YOU DEAL WITH THEM?
The digitization and automation of processes bring many benefits, but they also bring a question mark on how human resources will be transformed and how we will approach work in the future.
How do I cope with these ongoing changes in business? I am passionate about human psychology and technology, I follow the emergence and evolution of trends in human resources and I try to learn as much as I can to keep my flexibility and adaptability to any situation.
Under stress and / or under pressure, I adopt attitudes inspired by Buddhism (eg, the cyclical nature of life, the practice of meditation, the careful use of speech and words) and stoicism (eg, the pursuit of virtues and examples from nature). ). I pay attention to the words I use because they have the power to transform thoughts, and thoughts shape behaviors over time. I am increasingly reflecting on the ideas in neuroscience that our thoughts and actions are impacted by the biochemistry of the brain.
WHAT ARE THE SKILLS THAT HELP YOU IN YOUR JOB?
Every experience I have comes with a learning and development potential. Among my most important strengths are my curiosity to discover and my openness to new things, my creative attitude, of exploring solutions in any situation, the resilience developed over time and my passion for technology. Also, in any interaction, I pay attention to people's emotions and I try to facilitate an experience that is as useful as it is pleasant.
DESCRIBE THIS SITUATION THAT HAS SATISFIED YOU IN YOUR BUSINESS.
Every day brings the satisfaction of the (most) well done thing and I think that the joy is found in the small details, in every "thank you" from a collaborator or colleague, in every support action that materializes in solving a situation. Otherwise, this year we implemented a new platform for one of the clients, which I now see as a success for me and for company evolution.
And since the pandemic began, as we have been forced to work online or  in a hybrid system, we have tested and implemented a series of wellbeing and team-level engagement actions, together with Georgiana Mirică and support Mariana Vaida.
Last year's Secret Santa Letter project also brought me satisfaction, when we wrote letters to each other, initially anonymously, and then we met virtually and opened them together, each reading his letter for the first time. team. Although the initiative was initially viewed by some of our colleagues reluctantly, we had some memorable moments together.
WHAT advice WOULD YOU GIVE TO A YOUNG People WHO WANT TO WORK AS A HR CONSULTANT? WHAT STEPS SHOULD they FOLLOW?
I recommend that they start practicing as soon as possible. Internships, part-time jobs and volunteering since college bring a big plus to their CV in hiring process, but the biggest advantage they bring is exposure to new situations, from which they have the opportunity to learn.
Set realistic expectations and well-thought-out goals, try several areas of human resources before choosing your favorite activity, and step out of your comfort zone at learning and networking events. Maybe even find a mentor at BIA HR. We are willing to return some of our experience to the community.
Understand that a career is not built overnight, and in any job there are ups & downs, repetitive actions and tasks (which can become boring from one point onwards), with both creative and captivating processes. And perhaps most importantly, to understand that we are human and it matters to be human with human beings!
WHAT SHOULD CUSTOMERS KNOW if they WHO WANT TO WORK WITH YOU?
I am a determined and autonomous person in the objectives established together with the business partners and I come to meet them with all my resources. Sometimes "I go the extra mile," as one client once said. I especially appreciate and work best in collaborative and partnership relationships. I treat people the way I like to be treated, and I believe that many potential conflicts can be solved through communication and openness.
WHAT ARE YOUR EXPECTATIONS IN 2022 IN RELATION TO CURRENT or POTENTIAL CUSTOMERS? WHAT WOULD YOU LIKE TO CHANGE AGAINST 2021?
2021 was a challenging year, but we adapted our activity very well and overcame together the challenging situations, through negotiation, understanding of needs, adapting resources and mutual support. I expect the year to start to be similar, with the addition of resilience that I have gained since the pandemic has started.
DO YOU HAVE FAVORITE MOTTOS OR CERTAIN BOOKS THAT HAVE OPENED NEW PERSPECTIVES FOR YOUR CAREER?
I find myself in the following mottos:
"You can have anything you want if you want it badly enough. You can be anything you want to be, do anything you set out to accomplish if you hold on to that goal with singleness of purpose. "- Abraham Lincoln
"Be a lamp, or a lifeboat, or a ladder. Help someone's soul heal. Walk out of your house like a shepherd."― Rumi 
I'm listening to a lot of podcasts, but also I'm reading books on personal and professional development whenever I have the opportunity. I appreciate content authors like Dale Carnegie, Daniel Goleman, Jordan Peterson, Daniel Kahneman, Robert Cialdini, Andrew Huberman, George Buhnici.
WHAT DO YOU LIKE TO DO IN YOUR FREE TIME AND GIVE YOUR ENERGY TO YOUR JOB?
My biggest passion is learning or exposing myself to new experiences, from which I have to learn, so I participate in all kinds of courses, workshops, webinars, conferences.
In addition to podcasts (I listen daily to various topics: HR, communication, psychology, neuroscience, CSR, ecology, leadership, tech, etc.), I watch a lot of movies, I read both personal development and fiction books – at the moment I started Les fiancés de l'hiver by Christelle Dabos, a kind of feminine version of Harry Potter, but in a modest version, a creation that looks more shy and less imaginative.
I am passionate about everything that art means, I visit museums and new places and I appreciate digital art more and more – for example, on a vacation last year I visited Casa Batlló, where I attended an immersive show, 6D, In the Mind of Gaudi, made by the artist Refik Anadol, which fascinated me. Although I'm claustrophobic, in the first part I felt like in the movie The Cube, I was about to press the panic button. For the curious, here is a link to a post on YouTube that does not belong to me, but which shows so well my experience at Casa Batlló.
And, of course, I grow up cats, which entertains me at any time of the day or night :).
Were you inspired by the interview BIANCA MATEI – HR CONSULTANT IN BIA HR? DISCOVER OTHER INTERVIEWS:
PROFESSIONAL PROFILE: GEORGIANA MIRICA, RECRUITMENT CONSULTANT
PROFESSIONAL PROFILE: CRISTIANA DRĂGAN, SENIOR HUMAN RESOURCES SPECIALIST