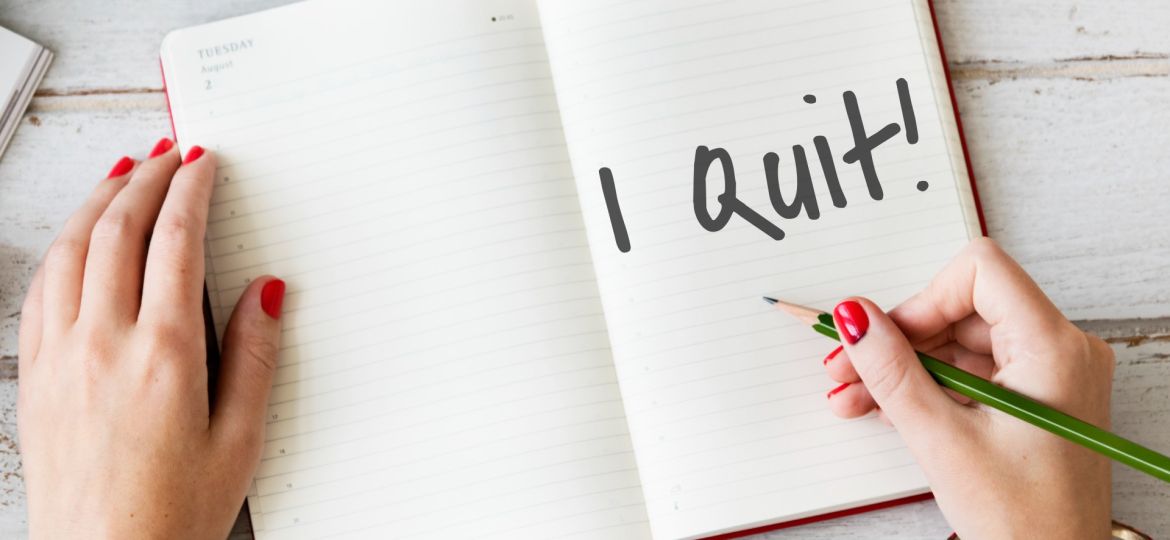 The Great Resignation, the term created in 2019 by Anthony Klotz, Associate Professor of Management at Texas A&M University, to predict a voluntary exodus of working people, is also becoming a reality in Romania. The pandemic has significantly changed not only the way people work but also their approach to work. Employees are reconsidering their priorities regarding work and are more open to new opportunities that better align with their values ​​and needs. Stress, burnout but also the attitude of the employer in the pandemic are often the reasons for the decision to change jobs.
In order to have a complete picture of people's behavior, it is worth analyzing the US data as well. According to the US Department of Labor, in April, May, and June 2021, 11.5 million workers left their jobs, a phenomenon anticipated by a Microsoft survey conducted at the beginning of last year, on a sample of 30,000 employees, which found that 41% of employees are thinking of quitting their jobs, up from 54% in Generation Z. Gallup found that 48% of employees are actively looking for new opportunities, and a Personio survey (a well-known HR software) shows that 38% of employees planned to make a change in the next six months (from the time of the interview).
Most of the American "resignations" are between the ages of 30 and 45, according to the Harvard Business Review. The "Great Resignation" affects all industries but is common in the technology and healthcare industries.
Let's see what you can do to prevent The Great Resignation and be more prepared for this period with a lot of challenges in retention.
THE REASONS BEHIND THE GREAT RESIGNATION
People want to work from anywhere, to have flexibility in choosing the place of working but also the program. There are also other important issues, according to a recent survey conducted by career training and consulting firm Dale Carnegie. Lack of appreciation at work, the relationship with leaders (and their leadership style) but also the working atmosphere contribute to the decision of employees to resign.
ANALYZE THE IMPORTANCE OF EMPLOYEE EXPERIENCE
It may seem obvious, but in order to retain talent, it is important to improve their experience. And the decision to offer them "more money" does not always solve the problem. People want to be heard and involved in the creative processes that take place at the company level. They want leaders to validate their efforts, including their ability to learn from their mistakes. And they want positive encouragement as much as they want an income as they get involved.
But it is often difficult to know what they want because, according to a recent survey by career training and consulting firm Dale Carnegie, nearly half of respondents said they were afraid to discuss difficult issues with their leaders. An equal number of employees said they did not feel safe doing so because it could have consequences. 61% of employees say that management allows them to come up with proposals that can improve their activity.
Given that remote work will continue even after the pandemic, people will increasingly look for employers who appreciate them and give them the opportunity to get involved, to have an impact in a positive work environment.

HOW TO PREVENT A MASS RESIGNATION. FIND OUT WHAT PEOPLE WANT *
Appreciation: Less than 1 in 4 respondents strongly agreed that "the people in our company appreciate each other's unique abilities, perspectives, and talents".
Opportunity to be surrounded by creative people: 82% say that creative people can be found in their teams.
Encouragement: 70% of respondents say that management regularly encourages creative ideas when there are certain problems to be solved.
Optimism for the future: 15% of employees strongly agree that the company's management makes them feel excited about the future.
* Dale Carnegie's career training and consulting company survey.
WHAT CAN YOU DO AS A LEADER TO AVOID GREAT RESIGNATION
Analyze your perception of people and how you communicate with them. If you show them that you have a team of qualified people you trust, they will be more likely to come up with creative ideas for solving problems and it will be easier for you to attract the desired talents to the team. If, on the other hand, you show that you do not believe in their ability to solve problems, people will certainly "rise" to the level of low expectations you have set.
Recognize when you're wrong.

Only 41% of employees say their leaders do this. Failure to acknowledge mistakes erodes the credibility and involvement of employees.

Listen, appreciate and implement the opinions of employees.

Only 49% of employees still believe that they are being listened to. And instead of saying that, it's much more important to show that you're listening.

Be honest with them.

Only 20% of respondents believe that their leaders are honest with them.
Your mission is to take into account the percentages mentioned, to identify the problems encountered in retention and their causes, in order to develop customized programs that better involve employees beyond the standard package of benefits.
HERE'S HOW YOU CAN PERSONALIZE YOUR EXPERIENCE AT A TIME WHEN PEOPLE THINK OF RESIGNING:

1. Expand remote work options
Many employees have proved in the last two years that they don't have to be in the office to be productive. And while some of them want to return to the office physically, others do not intend to return – at least not permanently. A Morning Consult poll for Bloomberg News shows that 39% of people would consider resigning from their current job if their employer were not flexible about working remotely. Among Generation Millennials and Generation Z, this intention is even higher 49%.
To prevent this, some companies assure employees that they will not have to return to the office if they do not want to. As early as May 2020, Twitter and Square announced that employees will have the option to work from home forever. Since then, many other companies have followed this trend, moving up to 100% remote or switching to a hybrid model.
If you have not yet made an announcement about how your company intends to plan work after the pandemic, the wait may be risky. Employees may interpret that the remote work period will finish and they will have to return to the office (because it is difficult for teams to coordinate because the organizational culture is affected) and, as a precaution, they will start looking for jobs that will offer them the opportunity to work in the style they want.
So it's time to give your colleagues an insight into how they will work in the post-pandemic period and some clear, fair and just rules.
There is also the question of who will be allowed to work remotely and who will not. Extending the remote work option only to some employees and not to all (because some jobs do not allow, for example in sales, production) could demotivate colleagues. That's why it's important to think of fair strategies (for example, sales colleagues working remotely on the days they send offers to customers) so that no one feels unfairly excluded. There is no single dimension when it comes to flexibility. The needs of employees will be constantly changing. It is important to adapt your decisions to their feedback.
What can you do for colleagues whose work does not allow remote work? Follow the example of Ford, which is considering allowing factory employees to pre-order food to take home to the family so that they do not have to spend time in stores after the program.
2. Provide support to managers to coordinate remote work and hybrid work
Although you may have the technology to get people to work wherever they want, more cultural changes are needed to support the remote and hybrid style. Colleagues who choose to work remotely may feel isolated when others return to the office.
The first step in combating this feeling is to prepare managers to lead hybrid teams effectively. Even if they have mastered remote management during the pandemic, this does not necessarily mean that they know how to handle the challenges of remote and hybrid work and to convey to people that they are close to them, regardless of their style of work. Because the last thing you want is for remote workers to feel like their manager favors people they see every day in the office, and doesn't understand those who work remotely.
It is also important to re-evaluate physical workspaces and consider ways in which they can be adapted to a hybrid work style. Google, for example, has meeting rooms equipped with large screens to connect employees in the office with their colleagues who work remotely.
3. Show the purpose
That's why people join the company and choose to stay. Harvard Business Review shows that in difficult times, trust in what an organization is trying to accomplish is even more important than in quieter times. And you don't have to present the goal every time, but use it to shape what you do and how you do it.
4. Emphasize well-being
The consulting firm Robert Half found that 44% of employees were more exhausted in 2021 than a year ago. Half (49%) said they had a higher volume of tasks, while one in four employees said they had given up paid leave in 2020.
To reduce burnout, it is not enough to wait for people to take time off when they need it. Companies such as Mozilla, LinkedIn, and Bumble have tried to get employees to take time for themselves, scheduling one-week closures across the company. But initiatives like these are only effective if they are accompanied by careful efforts to manage the workload of the team so that people are not overwhelmed before or after taking leave and can not enjoy relaxation.
5. Support employees offering them internal mobility and professional development
It's difficult to retain employees who decide to radically change their career path, but at the company level, you can take steps to help people make meaningful moves. Ask them: "If you could draw your dream job here, what would it look like? What would keep you in the company? Does your job give you the opportunity to use your skills or learn new ones? " This approach is useful to show you value them, giving them new opportunities to grow and advance.
At Schneider Electric, employees can apply for part-time projects through the company's internal mobility platform. Uber has a similar platform, and managers work closely with employees (contractors) to help develop a career plan.
If you don't own a specially created platform, you can support internal mobility by providing employees with information about open roles in the company, as well as learning resources that will help them develop the skill sets needed for new jobs.
6. Pay attention to equity and transparency
The first step towards equity is to find out if there are gaps in the company and take steps to eliminate them. Maybe your employees are being paid fairly, but if there aren't a few public rules on how salaries are calculated or rules for raising salaries, some colleagues may come to suspect that they are underpaid and start looking for opportunities elsewhere.
That is why transparency of salaries is also essential. If the company does not feel comfortable disclosing the exact salary, it is important to consider posting a pay range.
7. Prioritize culture and connection
Take the necessary time to connect with people. This approach will not only strengthen your relationship with them, but the Harvard Business Review research during the pandemic shows how important the social connection is, with a significant positive impact on productivity as well. Both blue-collar workers and white-collar workers around the world prioritize good relationships with colleagues over other attributes that motivate them to stay in their current job.
8. Create positive emotions to increase employee morale
In order to have a motivated team, it's important not to underestimate the power of positive emotion. As Dale Carnegie says: "When dealing with people, let us remember we are not dealing with creatures of logic. We are dealing with creatures of emotion, creatures bristling with prejudices and motivated by pride and vanity.". It's essential to be careful about how your own emotions (good or bad) affect employee morale. Look for daily ways to appreciate in their work and work to improve relationships, emphasizing sincerity and transparency.
The "Great Resignation" comes when people want more from their company: more flexibility, more connection, more recognition, and advancement. When you recognize these expectations and come up with solutions, people will be more likely to continue the journey they have begun with the company.
Sources
https://www.forbes.com/sites/forbeshumanresourcescouncil/2021/11/01/how-to-position-your-company-to-avoid-the-great-resignation/?sh=43e01e4955be
https://www.dalecarnegie.com/blog/better-employee-retention-how-leaders-can-prevent-the-great-resignation/
https://www.linkedin.com/business/talent/blog/talent-engagement/things-to-avoid-great-resignation-at-your-company
https://hbr.org/2021/11/6-strategies-to-boost-retention-through-the-great-resignation
READ also: 
DO YOU CHECK CANDIDATES IN SOCIAL MEDIA? HERE'S WHAT YOU NEED TO KNOW ABOUT THIS SCREENING METHOD