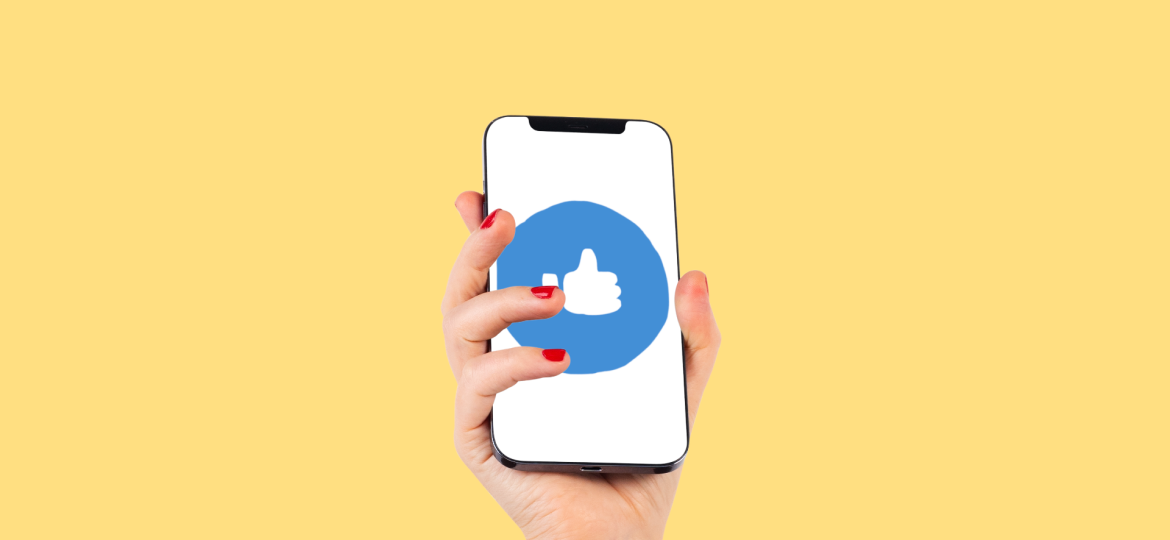 Starting in 2023, LinkedIn has 900 million users globally. 3 new members join LinkedIn every second. In Romania, according to the latest statista.com data, in August 2022, the number of people using the professional network was measured at 3.47 million users. Comparatively, in 2021, there were 3.2 million users. On LinkedIn are the professionals, the specialists in various fields, the middle managers, and the general managers you need for your team. And the growing number of users on LinkedIn is worth taking into account when creating an employer branding strategy for your company so that you can attract them more easily.
Amid the high competition to attract and retain the right people, companies should send a strong message: This is a great place to work. One way you can do this is by authentically presenting who you are as an employer, what you value, and how you work. Here's how to create an employer branding campaign for your business on LinkedIn.
WHAT BENEFITS do YOU HAVE WHEN DEVELOPING AN EMPLOYER BRANDING STRATEGY ON LINKEDIN 
You can reduce hiring costs if your company has a constant presence on LinkedIn and provides details about the work environment, the team members, and about their work experiences. After all, when a potential candidate asks, "What's it like to work here?" no employee would answer, "We've produced some amazing material." Instead, employees should focus on company values, culture, and workplace relationships.

You can more easily convince passive candidates to join your team, reducing hiring time and costs.

According to LinkedIn, 75% of active job seekers are more likely to apply to a company that actively works on their employer branding.

An employer branding strategy gives you the opportunity to involve your colleagues in brainstorming, creation, and videos, thus increasing their satisfaction and motivation. They will gradually become brand ambassadors. The results will be seen in candidate attraction and retention.
HOW TO BUILD YOUR EMPLOYER REPUTATION ON LINKEDIN
Optimize your company page. Make sure it is filled with all necessary information: logo, cover photo, "About" section, office locations, public URL on Linkedin, and tagline. Revising and updating information can give your page a boost in views. You can use the cover image section to upload banners related to upcoming company events, and anniversary celebrations. For branding campaigns, you can create a showcase page, which is a page affiliated with the company's main page on Linkedin.

Publish job ads. Linkedin offers you the opportunity to post one job ad per month for free. But if you choose to sponsor the ads, they will be displayed at the top of the results on Linkedin.

Posting jobs on your Linkedin company page is another way you can get impressions as an employer and convince job seekers to follow your company page.

Show the activities in which colleagues are involved
People who are looking for a job want to know what is happening inside the company, and what experiences the employees have. Based on these expectations, post photos and videos of activities in which colleagues are involved:
Onboarding process

Birthdays and anniversaries

Awards

Office and relaxation spaces

Attending company and industry events

Games, tournaments, and competitions

Charity events, team building
Create engaging, shareable content:
Job-related advice

New trends in the industry

Case studies

Interviews with company leaders

Employee testimonials

New developments and challenges in the company's field of activity

Company development plans

You can take excerpts from blog articles and share them on your LinkedIn company page.

When posting content, try different formats such as short videos, carousels, infographics, polls, images, content, or text only.
To create a branding image on LinkedIn, use photo and video editing tools such as Canva, InVideo, Renderforest, and Adobe Express, which allow you to work on templates.
To increase audience engagement, ask a question at the end of every Linkedin post. And very important: stay consistent in your posts by creating a content calendar.
Publish employee-generated content
Content created by employees gives a confidence boost to employer branding. You can encourage them to share their experience in their field of activity or in the company or their impressions from certain professional events they attended.
This strategy can be successful because colleagues will also share the content on their social media pages, some of which have more followers than the company page. This way I can contribute to the increase of followers on the company page. Another option is to call on influencers from the company's field of activity. Choose them carefully so they can be seen to fit the brand's values and are excited to talk about it.
Host live sessions
A live session is another great way to interact directly with your audience. You can do an interview with the company's CEO or a top industry expert, followed by a live Q&A session with the audience.
You can also organize a webinar or conference on topics that attract the company's audience and especially the candidates targeted by the company.
One advantage of live sessions is that you can break up live videos into small pieces of content that can be shared on Linkedin and other social media platforms. To have the live streaming feature on your company page, you need to make a request for it.
Respond to comments and questions
To increase post visibility and business profile views, respond to comments. This way you attract the attention of candidates (active or passive) who can follow the page and will follow the posts about employment opportunities. Make sure you keep the same tone and approach in your comments to represent your company and its values.
Involve colleagues in the hiring process
By adopting this technique, you will boost talent acquisition, thereby reducing associated costs. Colleagues can share information about vacancies in the company and impressions of the work environment. Encourage them to answer questions they get from candidates on Linkedin and create a referral rewards program.
Monitor brand mentions and hashtags
When people mention your company in their posts or comments, it's important to check that the content is relevant to your audience and respond to it. This way you build the company's reputation and keep it positive in the long term.
Similarly, you can use specific hashtags to find and engage with content related to your business.
THE MOST APPRECIATED EMPLOYER BRANDING CAMPAIGNS ON LINKEDIN
LinkedIn analyzed 250 of the most engaged company posts between September 1 and December 1, 2022, to find out which employer branding tactics are working. The companies that received the most likes created content that was authentic to their brand while tapping into trends, showcasing company culture, and highlighting what they do best. The posts delivered a message, whether it was inspirational, educational, or just funny, that resonated with their audience, prompting them to take action.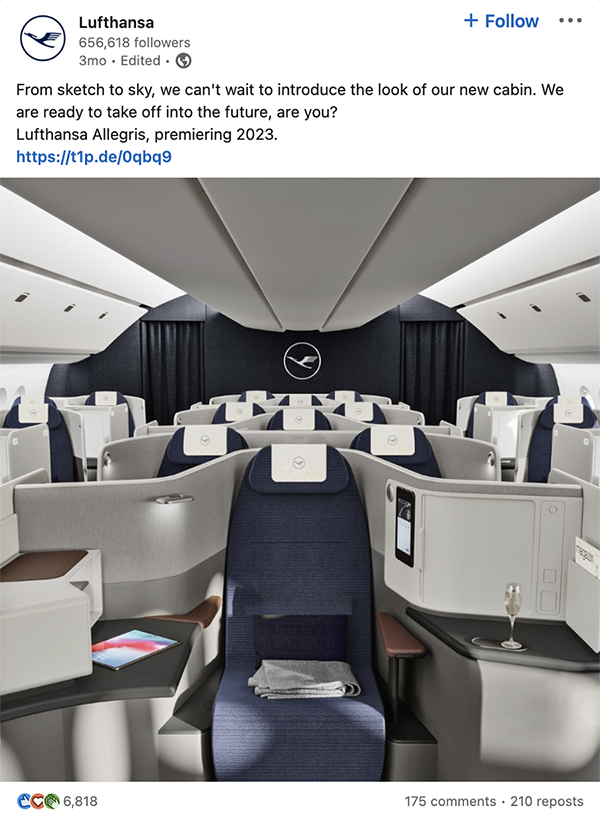 POSTS WITH POWERFUL IMAGES DRIVE THE HIGHEST ENGAGEMENT
Lufthansa employer branding campaign
The photos previewing the new Lufthansa aircraft cabins caught the interest of readers. The images position the company as active, forward-looking, and exciting job seekers knowing they have the opportunity to use state-of-the-art products or services.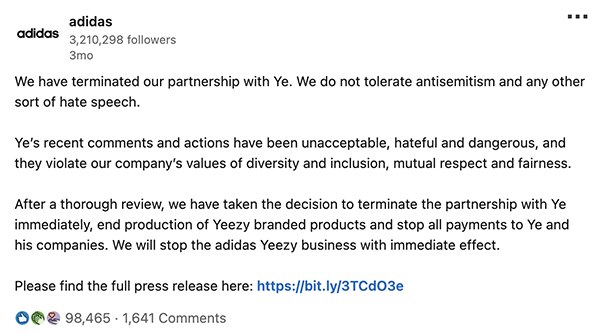 LINKEDIN USERS WANT TO SEE WHAT COMPANIES PRICE AND HOW THEY REACT TO SOCIAL ISSUES
Adidas employer branding campaingn
Taking a public stand on social issues: A CNBC/Momentive poll found that 40 percent of workers said they would quit their jobs if they disagreed with their employer's stance on key issues. Adidas has spoken out about its decision to end its partnership with Ye (formerly known as Kanye West) over the rapper's "unacceptable, hateful, and dangerous" comments last year.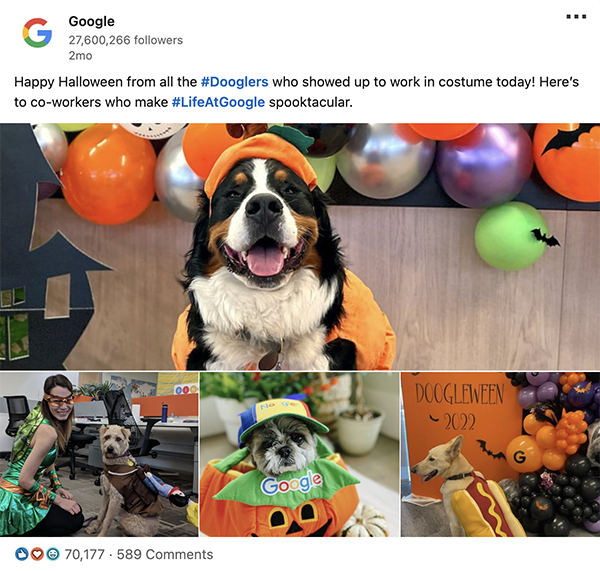 A LOOK AT THE LIFE AND PEOPLE IN THE COMPANY CAN CONVINCE THOSE WHO ARE LOOKING FOR A JOB
Google LinkedIn Employer Branding
Google's posts highlighting holiday activities as well as its photos from Diwali celebrations have received the most reactions from the public. Images of the tech giant's pet-friendly office Halloween festivities also got a lot of likes.
Employer Branding Deloitte Linkedin
Business consultancy Deloitte also provides a glimpse into the work environment: the company engaged readers in posts about the office baking competition and posts about employee volunteering. Each post showed that Deloitte is a sustainability-oriented employer.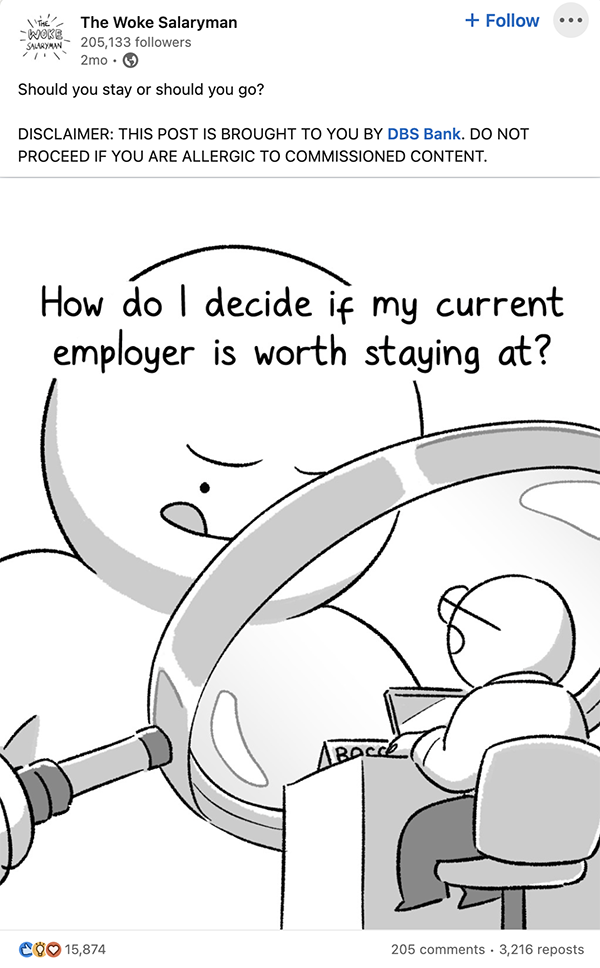 HELPFUL TIPS CONNECT WITH JOB SEEKERS
The Woke Salaryman & BCG
The illustrated guide, created by the platform The Woke Salaryman, showing employees how they should evaluate their employer and whether they should stay with their current company has attracted a lot of reactions from LinkedIn users. Also, the Boston Consulting Group's guide, providing job interview questions generated positive reactions, with people looking for ideas to help them connect with a new job.
To attract the right colleagues to your team, pay attention to your LinkedIn posts, making sure you offer images that show the company's innovations, involvement in social issues, and insights into office life. Create different types of content and tell us what worked for you in your employer branding campaign.
Sources:
https://maxsemo.com/employer-branding-linkedin/;
https://www.linkedin.com/business/talent/blog/talent-acquisition/employer-branding-examples;
Read also: 
The Benefits you have in business by using HR Consulting services