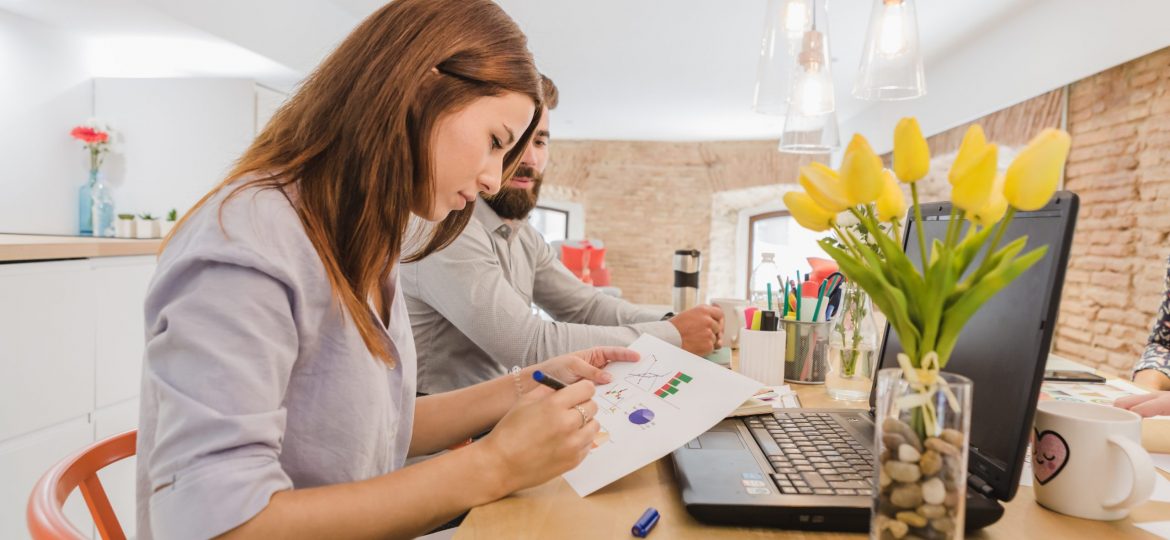 The provisions of labor law and financial law change frequently and, from your position as HR Manager or General Manager the activity of payroll and personnel management can be overwhelming. It takes up most of your working time and often moves people's motivational activities on the second plan, with effects on retention and on the company's budget.
In addition, in the last year new facilities are granted by the state such as technical unemployment, the Kurzarbeit program, money for telework, but working with state institutions may seem difficult to you.

BIA HR, the human resources consulting company with a tradition of almost 30 years, has been offering payroll and personnel management services since 2005. BIA HR specialists, including 7 certified experts in labor law, are always aware of changes in labor law or tax law applicable to salaries and income assimilated to them, so they can provide all necessary support to partners.
Why outsource payroll and personnel management activities?
A study conducted by the financial consulting company Ernst & Young in 2019 shows the biggest challenges that company representatives face in the case of the in-house payroll and personnel management activities.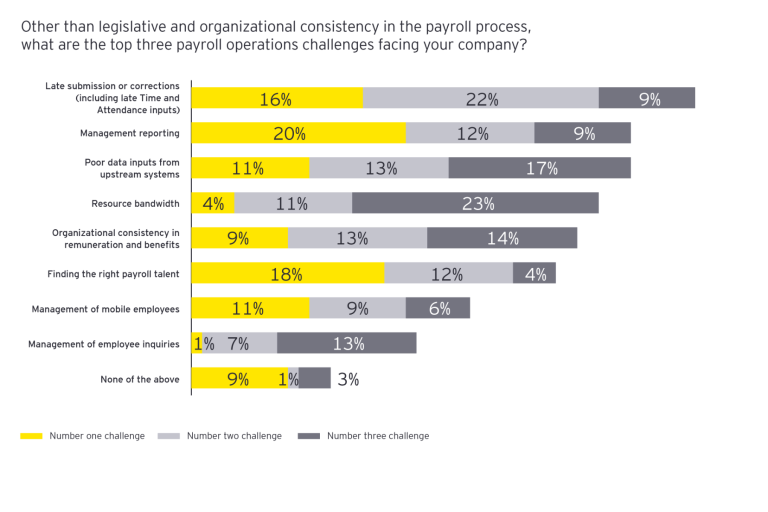 20% of respondents said that the biggest challenge is reporting to management. Despite the close alignment of HR and payroll strategies, there are still differences related to "who – to whom" they report. Only 57% of respondents report payroll activities to HR, 29% to the finance department, 9% to other departments, and 5% to finance / HR.
It's interesting that only 49% of respondents believe that payroll should report to HR. However, it's much easier when the reports for payroll and personnel management activities come from a company specialized in the field that sends them directly to HR managers or general managers.
For 18% of survey respondents, the number one challenge in payroll is finding the right payroll talent

People on the payroll team have to meet many requirements and are often hard to find them. It's important they know the labor and tax legislation on salaries, to have knowledge of IT, the ability to adapt to change, as well as compatibility with other team members. Many participants in the E&Y study said that they will look for people locally, if necessary, but you need specialists who can improve their payroll and personnel management activities while keeping the daily tasks up to date.
Among the challenges that companies also face are the late submission of documents to state authorities, poor data inputs provided by the IT applications they use, as well as the management of mobile employees.

Cornel Anghel, Outsourcing Manager, and Silvia Manolache, Senior Outsourcing Manager at BIA HR present the challenges that companies are now facing and the benefits of outsourcing payroll and personnel management activities through BIA HR.
What are the main reasons why many companies use BIA HR payroll and personnel management services?
The main reasons are the complexity of the payroll processes, personnel management, Revisal, the completion of the 112 Declaration, in the context of frequent changes in legislation, as well as in the context of the lack of senior and stable HR people. Companies also lack the right software applications that either do not keep up with legislative changes and the complexity of the processes, or they are expensive.
What problems do they face when requesting BIA support?
Most of the time, the company's representatives are dissatisfied with the current supplier, they are overwhelmed by the volume of activity, by the high fluctuation of the people in their own HR department, or by the lack of specialists on the market.
How do you help them in situations generated by new legislative measures or financial aid measures, granted by the state, they want to access?
Legislation is constantly changing due to the flexibility of labor relations, working time, the extension of benefit packages, due to the development of the business environment. Specialists in payroll and personnel management face difficulties in monitoring these legislative changes and implementing them correctly due to the fact that these provisions are not clear and the state institutions do not provide clear answers on topics such as Revisal, Kurzarbeit program, technical unemployment, money in telework, childcare leave.
How does the collaboration with BIA HR start in payroll and personnel management activities?
Naturally, we start with the process of implementing the service. At this stage, we take over the partner databases and drafts of personnel administration and payroll documents, analyze them and implement them in our applications. Additionally, we are carrying out a salary calculation, to make sure that we have fully understood the salary calculation method and that the implementation has been done properly. At this stage, we also recommend an audit of personnel files to be done by BIA HR specialists.
Could you tell us how BIA HR payroll services differ from those of other companies offering similar services?
The quality of payroll and personnel management services offered by BIA HR is guaranteed by a team of professionals, experts in labor law. The stability, flexibility, and proactivity of consultants in the context of the dynamics of legislation, define our team.
What are the advantages of a company that outsources payroll and personnel management services?
Any partner feels safe knowing that payroll and personnel management activities are in the care of labor law experts, proactive, and always attentive to their needs. It is also worth highlighting other advantages such as compliance with GDPR provisions, team stability, budget predictability, and cost reduction for payroll and personnel management services.

The benefits of using BIA HR payroll and personnel management services
BIA HR offers solutions for complete or partial outsourcing of payroll and personnel administration activities. Discover what benefits you will have in this activity:
From your position as Human Resources Manager or General Manager, you will be able to focus on business development and human capital, giving up routine operations related to personnel management.
You will notice an increase in the quality of services in routine operations (payroll, personnel management), through the partnership with a specialized company, with skills developed exclusively in these areas.
Your company will keep up with legislative changes and have access to highly qualified staff, available whenever you have questions about these changes.
Flexibility in adding new services, for example, related to territorial development. BIA HR team quickly takes over the tasks and responsibilities related to payroll and personnel management.
Confidentiality of data transferred to the human resources consulting company, for payroll and personnel administration processes.
Predictability. From BIA HR you receive a predefined cost, clearly more advantageous than carrying out the activity with your own staff (which involves salaries, bonuses, meal vouchers, training, team buildings, IT equipment, office infrastructure, office supplies, rental space), costs with staff turnover in the HR department, costs with the acquisition of specialized software etc.)
The software technology we use allows us to overcome the traditional difficulties of outsourcing processes and to ensure the transparency, availability, and security of the information provided by the partner companies.
You will have better control over human resources activities, through the accuracy of the reports provided.
Outsourcing payroll and personnel management services have a positive impact on the experience of employees in the company. They have the opportunity to ask questions to a qualified staff, which offers professionalism, transparency, and promptness in answers. Also, from the position of the HR manager or general manager, you can spend more time on wellbeing activities and adapt them to the new working conditions in order to create a pleasant work experience.
Do you plan to outsource payroll and personnel management services? Request a personalized offer here.
Source: https://go.ey.com/3eE8F7I
Read also:
The steps of collaboration with BIA HR to recruit people for your team