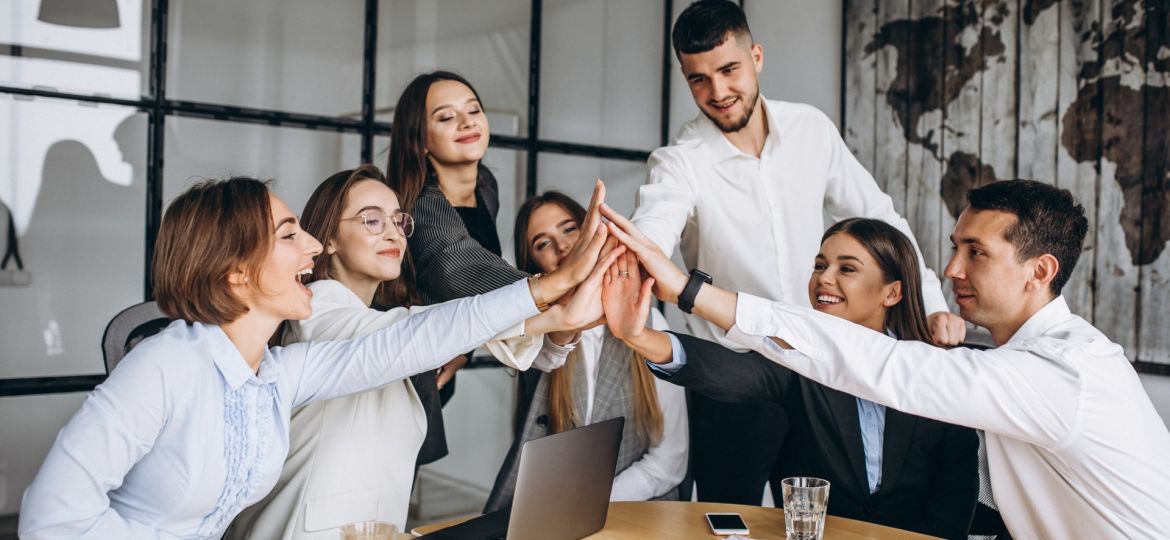 Teamwork is essential for the success of a business. Companies that support good collaboration between colleagues have high levels of trust, employee engagement,  and better and better performance. A study conducted by the Institute for Corporate Productivity shows that teams that work well together perform 5 times better because they feel motivated by a common goal. However, a recent Salesforce study found that of the 1,400 executives and employees surveyed, 86% consider that lack of collaboration was responsible for workplace failures.
Creating a pleasant work environment is not something that can happen overnight, but is the result of leaders' efforts to cultivate successful values ​​among employees, such as respect, communication, and conflict solving. Colleagues can't work in isolation in a company and every employee will need the help of a colleague, regardless of his activity. And it is important that all employees, whether they are managers or people at the beginning of their careers, feel that they are part of a team, that they are integrated, and that they have a good collaboration with those they work with. Therefore, cultivating team spirit and building lasting bonds between colleagues must be a priority for you in your leadership position. But how can you build the foundations for effective collaboration between colleagues? Take into account how the pandemic has affected teamwork and adopt some strategies to bring your colleagues together!
HOW THE PANDEMIC AFFECTED TEAMWORK
A 2020 study conducted by Lucid, a real-time employee collaboration platform, shows that during the pandemic, managers were most concerned about productivity – 90% rated it as one of the top three employee concerns when thinking of employees working from home. Instead, 75% of employees mentioned that at the level of collaboration they were affected the most.
Survey participants also noted that they lacked spontaneous brainstorming or strategy development. One in five employees said the meetings were less collaborative during the pandemic and 25% of employees said people work more individually when meeting in groups. But 1 in 5 employees personally met with colleagues against the company's protocol during the pandemic, claiming that the virtual meetings were not appropriate due to the lack of face-to-face collaboration.
Microsoft found that switching to remote work made formal business groups and informal communities within the company less interconnected and isolated. Remote work has reduced the share of collaboration time spent by employees by about 25% compared to the pre-pandemic level. The move to remote work has also made Microsoft's organizational structure less dynamic. Microsoft employees have recruited fewer new employees or given up existing ones.
Microsoft points out that as remote and hybrid work continues, it's important to understand how company policies affect the way people work with each other.
Working from home can lead to higher productivity, but creative collaboration suffers. Even if your colleagues prefer remote work, give them a reason to come to the office: maybe a new project, coordination responsibilities, Happy Days.
PRESENT THE COMPANY'S MISSION
All colleagues need a reason to come to work every day. They want to know what they will work on and what is the biggest goal in which they will participate.
It is your duty to give employees a reason – beyond salary – to get involved in the company's business. And the more passionate they are about it, the more likely they are to work with their colleagues to accomplish the company's mission. Make sure you talk about this mission as often as possible so that all colleagues can understand it and present it to others. In this way, when they are faced with conflicts or challenges, they will be able to take into account the mission of being a team.
Your mission should be simple but meaningful. The more convincing you are, the more often you will be able to bring them together.
COMMUNICATE YOUR EXPECTATIONS ABOUT TEAMWORK
If the people on your team don't know you want them to work together, you can't expect them to do that. From the onboarding stage, set the expectations, so that your colleagues know that you give priority to teamwork.
Employee job descriptions should include details about individual work as well as teamwork. By setting clear boundaries between personal and collective responsibilities you will take an important step towards better teamwork.
DEFINE AND COMMUNICATE THE OBJECTIVES OF EACH TEAM
The discussion about goals should not be monthly. Not even weekly. Ideally, you should discuss the goals of each team on a daily basis. People who know their individual, as well as their collective goals, maintain everyone's productivity.
Morning meetings allow colleagues to discuss projects and show them that they are working on something together. To motivate your colleagues you can take a step back and encourage them to define their own daily goals.
HONEST COMMUNICATION AND A RELAXED ATMOSPHERE are the Keys To a BETTER COLLABORATION
Good team collaboration is based on open and sincere communication. If people feel that their ideas are appreciated, more ideas can be shared and the team will become more productive. But for more introverted team members, this part of the process may not come naturally.
If you create a psychologically safe work environment in which team members feel that they are not being judged, they will be more willing to speak openly and contribute freely to their ideas. The more secure the communication environment is, the more collaborative the team will become.
You have also take into account the fact that in the context in which the balance between personal and professional life is difficult to achieve, a stressful work environment would divide the teams, even more, causing employees to no longer think about the common good, but only to improve their own situations. The mood is affected when members of a team feel trapped in front of a computer screen and overwhelmed by too much work. On the other hand, a relaxed atmosphere, a funny work environment will help employees to feel good at work, to come to work with pleasure, and to collaborate with colleagues, in order to provide the best results.
EMPHASIZE STRENGTHS
Research by OfficeTeam shows that 66% of employees would quit their jobs if they felt unappreciated. This number increases to 76% among millennials. People start looking for a new job if their unique skill set is not used and their value is not recognized.
In the recruitment stage, you have to identify the specific strengths of the people in your team. Make sure you build on these strengths and focus on them in collaborative environments. You can take the first step in this regard by inviting colleagues to complete a personality or skill test and share the results in the group.
PAY ATTENTION TO ORGANIZATIONAL CULTURE
The way the work is carried out at the team level depends on the organizational culture, so in companies that promote values ​​such as honesty, open communication, and interaction there are greater chances to cultivate a strong team spirit. At the same time, let's not forget that the power of example weighs a lot and that values ​​must be shared in the form of a pyramid, from leaders to employees. In turn, employees must resonate with the organizational culture and have a personality that allows them to adapt to work in a team.
Not all people work easily in a team, and employees with a negative attitude can sometimes make the work of colleagues more difficult.
DRIVE BY EXAMPLE
As a team leader, you need to prove a spirit of cooperation at every step. One-on-one meetings are a great way to start. Giving yourself time to talk to each colleague demonstrates that you are ready for dialogue.
How you handle colleagues' requests and how you make promises also prove your approach to collaboration. When one of the team members comes to you to ask for your support, then honor his request. And keep your promises once you have made them.
The more people in your team can trust you, the more productive they will become.
MEETINGS WITH THE TEAM AND THEIR ROLE IN CONFLICT SETTLEMENT
It's said that the best relationships between co-workers are created outside the regular work schedule. However, the company must also make a contribution to this, encouraging and supporting meetings with the team, and team buildings, organizing themed parties, or participating in volunteer activities. Outdoor meetings with the team will help employees get out of the work atmosphere, relax, communicate with their colleagues and get to know each other better. In this way, collaboration at work will be easier between those who have had the opportunity to interact in a more relaxed context, leaving aside the discussions related to daily work.
Last but not least, when conflicts arise, it is recommended that they not be allowed to escalate, but that they are resolved as soon as possible and that mediation be attempted, so that neither party has anything to lose. Often, it's necessary to mediate a conflict, whether it's a misunderstanding between two people or between two opinions formed within the same team. Finally, if an employee does not fit in with the team he or she belongs to and fails to work with his or her other members, the most effective measure is to replace him or her with another person or try to integrate him or her into a team with which be compatible.
RECOGNIZE AND REWARD TEAMS AND PEOPLE WHO WORK WELL TOGETHER
A good way to cultivate effective teamwork is to recognize the merits of employees who perform well, who have a proactive attitude, and who contribute to the growth of all, as a group. This practice must be accompanied by the encouragement of a similar attitude among other employees so that they can mobilize and contribute to strengthening team spirit.
The way you measure team success says a lot about the company. If you reward efficient teamwork and successful collaboration, then you communicate the business values.  When setting employee evaluation metrics, focus on teamwork as well as individual success. Thus, you send an important message: the efforts made in the team will be noticed and the results will be rewarded.
It's also good for people to be involved in making decisions that have an impact on the team, encouraging them not only to be spectators but also participants in this process. They would take the initiative and come up with a list of ideas and suggestions to be made.
MISTAKES TO AVOID IN TEAMWORK
Imagine you are working on a clay object on a wheel. If you look closely, you will find imperfections. You will notice cracks that let the water drain. Cracks and water leaks will weaken the vase. If you try to quickly assemble a system for team collaboration, you will probably make mistakes. And when these mistakes start to show, they will be much more expensive to fix than a failed pottery experiment. That is why it's good to know them and to know what you can do to avoid them.
You use several tools for collaboration. When people constantly move from one tool to another, they don't collaborate, and they become frustrated. Switching between tools to find documents and project updates is time-consuming and confusing. Changing the context consumes up to 40% of productive work time, with effects on people, team, and the company. For effective team collaboration, everyone must be on the same page, literally and figuratively. Therefore, it's very important to have as few tools as possible where the information is centralized: for example a communication channel (Slack, Discord) and the Drive for documents.
You set up meetings just because you have to. The most effective is to announce the topics that will be discussed. By doing so, people have time to prepare so that the actual meeting is more effective. Give up meetings that can be an e-mail. You may even find that your quieter colleagues are more willing to cooperate when they know they don't have a meeting.
Do micromanagement. Unfortunately, many managers micromanage because they feel the only way to stay up to date with the status of ongoing projects. However, constantly requesting status updates does not mean collaborating with your team. Micromanagement negatively affects the mental health of your team, and increases stress and depression. Moreover, trying to control how people use their time makes you spend more hours talking about work than doing work. It's much more efficient and motivating for the team to use collaboration tools to track projects.
Whether you are a leader in a large company or a start-up, you can take steps towards a collaborative framework by relying on a purpose, communication, support, and encouragement of people, but also on providing the right tools and events to bring them together.
Sources:
https://lucidspark.com/blog/report-collaboration-and-creativity-during-covid;
https://www.microsoft.com/en-us/research/publication/the-effects-of-remote-work-on-collaboration-among-information-workers/;
https://blog.hubspot.com/service/team-collaboration;
https://www.atlassian.com/work-management/project-collaboration/collaborative-culture/team-collaboration;
READ ALSO
How do you make a difference in recruitment in 2022? HR Trends that are worth following