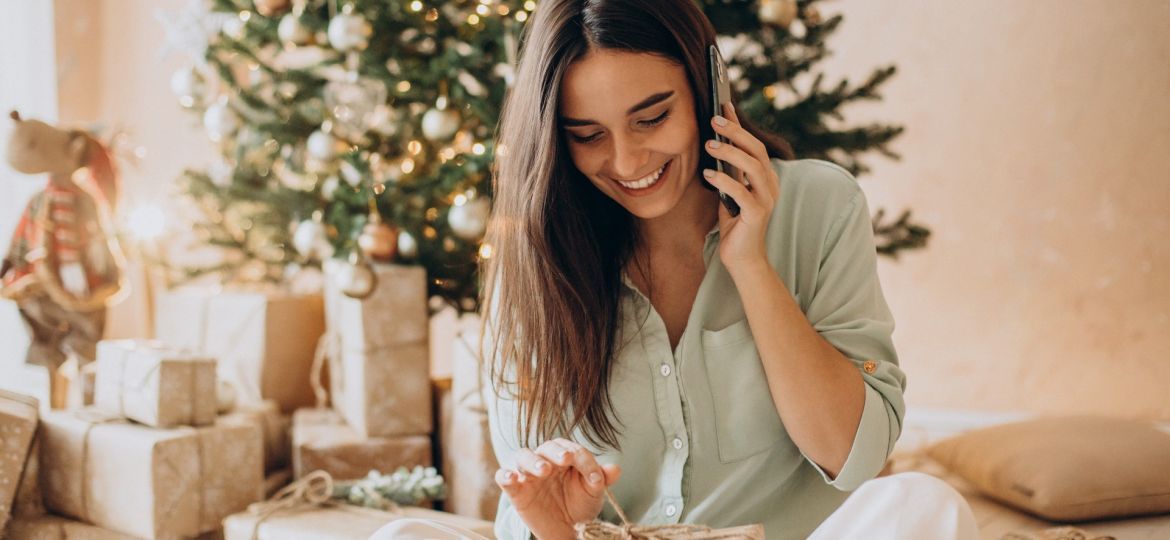 You are probably in one of the busiest times of the year, where your focus is on completing tasks and setting plans and strategies for 2023. At the same time, you also play an important role in searching for ideas that will surprise your colleagues. The workload can seem overwhelming, but there are ways you can stay organized and show gratitude to your colleagues for their work.
If you were to ask your team what positive changes they've experienced in the past two years on the job, working remotely and gaining management's trust for this work style would likely be among the things mentioned. In this context, where people work from different places or may not synchronize their work schedules at the office (46% of employees now work remotely, as the Gartner company survey estimates), the recognition of their merits is worth more than we might expect. In addition, their expectations have also changed in the last two years, being much more attentive to the manager's approach towards them. And the winter holidays can be a good time to show appreciation to people on your team, but it shouldn't be the only time of the year.
According to a survey conducted by OnePoll for Bonusly (the platform that offers solutions to show gratitude and reward your employees), almost half of US employees (46%) have left their job because they felt unappreciated Another 65% of respondents said they would work harder if they felt their involvement was noticed by management. But it's not just recognition from managers that makes the difference. 65% of those surveyed felt they would stay on a team with a boss who doesn't excel at appreciating work if their colleagues showed their appreciation.
The appreciation shown to employees can take many forms, including bonuses, praise, or a handwritten thank-you letter. Here are some reasons why it's important to show your appreciation for the work of your colleagues:
INCREASING RETENTION AND OPTIMIZING RECRUITMENT

It costs, on average, six to nine months of an employee's salary to replace him. And there are also cases where employees leave a company and take their entire team with them. But according to a Gallup/Workhuman survey, organizations that make employee appreciation a priority have workers who are 56% less likely to look for a new job. And in a SHRM study, 68% of HR professionals agreed that employee recognition positively impacts retention, while 56% said it also helps with recruitment.
HIGHER ENGAGEMENT AND PRODUCTIVITY
The appreciation shown to employees also results in greater commitment from them. In research conducted by Quantum Workplace, when employees believe management appreciates their work they are 2.7 times more likely to be highly engaged. And when O.C. Tanner studied employee engagement, 37% of those surveyed said more appreciation would motivate them to be productive more often. According to Deloitte, recognition is strongly correlated with improved employee engagement, which in turn improves workplace performance. Employee engagement, productivity, and performance are 14% higher in organizations with employee appreciation programs than in those without.
REDUCTION OF ABSENTEEISM
43% of US office workers feel burned out, according to the latest quarterly survey by Slack's Future Forum,. When you combine burnout with employees who don't want to come back to the office, you get the recipe for absenteeism. Incidentally, the number of Google searches for excuses to miss work increased in 2022. And it's the reason to be aware that showing gratitude for a job well done does wonders for motivating employees. Constant appreciation keeps everyone connected to the company's goals, making them want to come to work.
WHY GRATITUDE SHOULD BE A PERMANENT COMMITMENT
Around the holidays, you probably have more responsibilities in the HR department, including coming up with ideas for the right gift for employees that will make them feel appreciated.

But you shouldn't just do this only for the holidays. You may have situations where people celebrate holidays at different times, according to their religion or choose not to celebrate them. By giving them a gift just for the holidays, you can no longer support diversity and inclusion on your team. And you won't be able to differentiate yourself from other employers offering holiday gifts.
Gratitude can take many forms, including giving people meaning and clarity about their role, having the opportunity to do what they love at work, and developing new skills that will help them in the future.
HERE ARE SOME IDEAS TO SHOW YOUR GRATITUDE ALL YEAR ROUND:
Encourage team appreciation: Colleagues can show appreciation to each other. And it doesn't have to cost anything. Non-financial, meaningful peer recognition can often be more valued than a financial award. It can take the form of a written message on the internal communication platform or a greeting card. Colleagues can also be featured in the internal newsletter or exchange jobs with their colleagues.

Recognition Lottery. A lottery can be fun and motivating. All you have to do is enter all of your employees who were recognized during the year into the lottery

,

and then randomly pick winners.

 The prizes don't have to cost too much, they could be gifts with the company logo, gift vouchers, or access tickets to the movie, theater, SPA, or events.

Gratitude is shown by managers. They can select members of their team who have achieved certain goals or who have best expressed the company's values and give them an award with emotional value, such as a handwritten message from the manager.
Identify their strengths
Identifying our strengths or someone else's can be difficult. The team at Disruption Advisors, the technology-based talent development company, took a simple approach to identify these strengths. Each participant, whether it's the CEO or the newest junior employee, has the same task: write a note of appreciation to each teammate over the next two weeks. A note of appreciation is not a generic thank you note. Ask for specificity. The author must provide real-world examples and clearly explain the attribute or action that is valued and why it is valued.
Here are some ideas for thanking your colleagues:
Recognize and thank them for their contributions to your organization.

Recognize their positive attributes. For example, if they get along well with others, mention this aspect and praise them for this strength.

Show appreciation in public too.

Encourage everyone to speak up when they have concerns or suggestions. Then thank them for their feedback.

Thank each colleague personally.



WHY APPRECIATION NOTES ARE SO IMPACTING
It helps people see their strengths

It's common for people not to recognize their own strengths. Because superpowers are easy for them and they can underestimate them. Appreciation notes are a mirror we can hold up to our peers to help them see their strengths. It also allows you to communicate that those strengths are valuable to the team and the company.
You emphasize what works
Our brain has a magnificent filtering mechanism, organizing millions of data using a process called the reticular activating system (RAS). We mostly form this filter ourselves (whether consciously or subconsciously) by training our brains on what to focus on. When we tell our colleagues what they do well in a note of appreciation, we give them a conscious push to filter out their strengths.
People learn that they matter
Work can become very tactical and it can be easy to focus more on our to-do lists than on our teammates. When we write a note of appreciation, we also convey this message "I see you, I appreciate the work you do". This is not only validating for them, but you show them that they are valuable.
KEEP UP WITH THIS YEAR'S BENEFITS IN THE CORPORATE ENVIRONMENT
70% of companies will offer employees extra-salary benefits for the holidays at the end of 2022, according to data from one of the largest job platforms in Romania.
TOP OF EMPLOYEE BENEFITS IN 2022:
Cash premiums – 64.3% of employers chose cash premiums, which also represent the incentive most desired by employees

Year-end party with the team. 43% of employers choose this benefit.

Baskets with specific seasonal products. 28.6% of employers opt for this benefit.

Vouchers and gift vouchers

Additional vacation days

Holiday vouchers and raffle prizes
The value of the holiday package will be over 1,000 lei for each employee. 25% of the companies have allocated for benefits between 400 and 600 lei, 14.3% between 200 and 400 lei, 7.1% between 600 and 800 lei, and 3.6% between 800 and 1,000 lei. 21.4%, instead, will be limited to a budget between 100 and 200 lei for each employee in the company.
YOU CAN GO RIGHT TO THE DESIRABLE BENEFITS
Asked what they would offer employees if they didn't have a budget limit, 65% of employers put extra pay for all employees first, followed by a four-day work week with reduced hours to 32 hours per week (mentioned by 52.5% of managers), shows the same study, of one of the largest job platforms in Romania. Employers would like to go more and more towards solutions to the challenges that people face now, thus creating a sense of security and contentment that will reflect on the job.
35% would like to extend the benefits package to family members, and 30% believe that covering household expenses would be a benefit that would bring them a white ball in the relationship with employees and candidates. The sabbatical period, nanny, or housekeeper paid by the company would be two other benefits that Romanian employers would offer if they had a considerably larger budget.
HERE IS A LIST OF GIFT IDEAS FOR ALL BUDGETS AND WISHES to Show Gratitude
Additional days off
Working from home doesn't necessarily mean more time for your people to relax. They usually juggle work and household or family responsibilities. Days off in addition to those granted for holidays can mean more detachment, and rest, but also time for hobbies.
Gifts to make work more comfortable
They spend most of the day at their office and it's a good idea to help them make it a more welcoming space. The self-cleaning thermos, scented candles or even a hammock are great for relaxing. You can bring some color to their offices with potted plants. Alternatively, a stress-reducing tea set would also work.
Send the chef to their house
The holidays can be a source of stress for your coworkers, as many of them think they'll be spending time cooking. But you can surprise them with a personal chef. The chef takes care of everything: shopping, cooking, table service, and cleaning up after. All you have to do is find out what your colleagues' culinary preferences are and companies specializing in such services will send you personalized offers. The chef will go shopping to pick the freshest produce and come to the housemates to prepare the meal in their kitchen.
Professional development subscriptions
People make New Year's resolutions and set career goals, including learning new skills. You can surprise them with a subscription to Udemy, Coursera or Skillshare.
Party or a short team building
Many companies say that the best ideas materialize not in the office, but outside the office in a relaxed environment. You can plan for your colleagues a weekend trip to the mountains, a walk, and a festive meal at a restaurant that can appeal to them. The pleasant atmosphere is an opportunity to get to know your team better and to receive honest feedback on certain actions in the company.
When you want to show gratitude to your team, it's important to know your people in order to tailor your message and create the desired effect. And you can start with a simple, thoughtful note of appreciation that you can send no matter the time of year.
Sources for this article about gratitude: 
https://www.rewardgateway.com/uk/blog/employee-recognition-during-christmas
https://www.forbes.com/sites/carolinecastrillon/2022/11/20/why-employee-recognition-is-more-crucial-than-ever/?sh=7d4ee7892e03
https://hbr.org/2022/11/notes-of-appreciation-can-boost-individual-and-team-morale
READ ALSO:
Job security. Why you should approach now this topic with your team
WHAT IS BROWNOUT SYNDROME AND WHY IT SHOULD BE ADDRESSED AS A PRIORITY BY EMPLOYERS