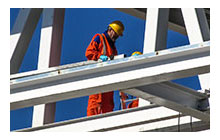 Temporary work services
are a smart financial solution, but also accessible and risk-free. The organization that needs to replace a permanent employee for a certain period of time, that has punctual projects with a high need for personnel or that simply wants to test the compatibility of employees with open positions has a cost-effective option in
personnel leasing
.
Temporary Work On Both Sides
27 million employees aged between 15 and 64 had a temporary work contract in 2017, that means 14.3% of all labor contracts, according to Eurostat statistics. In Romania, according to the latest Eurostat data, contracts through temporary work agent are little used compared to other EU countries.
Temporary workers
Flexibility in workplace is an increasingly trend also in our country. Temporary work offers employees an optimal combination of flexibility and security through a stable legal framework.
The opportunities offered to employees by temporary agency contracts are particularly appreciated by young people as a way to put into practice the theoretical knowledge acquired in school, as well as flexibility. They thus have the opportunity to see how well they fit with a job they want and to face the job responsibilities.
Companies that sign contracts through a temporary work agent
The companies that want to attract talents and potential specialists, that are thinking about being able to "test" them for a longer period of time choose temporary work.
In 2018, while the staff fluctuation and the lack of candidates are growing, the organizations have the opportunity to cover the deficit and secure their recruitment costs through personnel leasing services. That is why we think that the potential for temporary work contracts is rising to a very high level, as Romania follows the European flow.
Temporary Work In Romanian Legislation
The work through a temporary employment agent is an atypical form of employment and is one of the ways employers can flexibly work and have more control over
payroll
costs. Thus, the labor market offers access to a safer
job
for vulnerable categories: students, seasonal or unemployed.
The personnel leasing, as the temporary work is known, involves a temporary work report between an intermediary (temporary work agent), an employee available for a company, and the latter as an organization using the services of the worker.
Temporary work is governed by the Labor Code (Law 53/2003, with subsequent modifications and updates) in Chapter VII, Articles 88-102.
In determining the characteristic elements of this type of work relations are also included:

Government Decision 1256/2011 on the operating conditions and the authorization procedure of the temporary work agent;
Government Decision 557/2007 on completing measures aimed at promoting the improvement of safety and health at work for employees with fixed-term employment contracts and for temporary employees;
Law 319/2006 on safety and health at work, modified and completed.
At European level we mention:

Directive 2008/104 / EC of the European Parliament and of the Council on temporary workers;
ILO Convention 181/1997 regarding the private employment agencies;
Council Directive 91/383 / EEC supplementing measures to promote improvements in the safety at work of workers with a fixed-term employment relationship or a temporary work report.
Do you need to use
temporary work services
?
Contact us
!
You could also be interested in:

Personnel Leasing And Temporary Employment: When And Why To Turn To Specialists For That
How to Deal With Employees Who Can't Keep Up With the Workload

Novo Nordisk, A New Well Known Partner