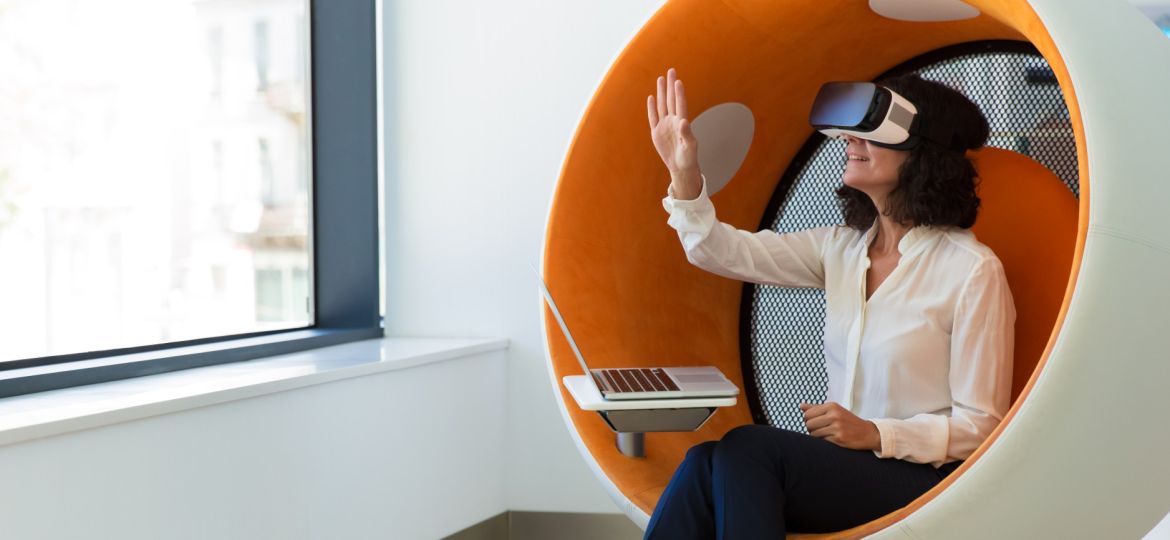 In your LinkedIn feed, you probably see frequent posts about the metaverse, the term used to describe the future in any sector, including recruitment. What the attraction of new talents, recruitment, and onboarding will look like through augmented reality, you will find out in the following.
The "Metaverse" was invented by Neal Stephenson in his 1992 novel Snow Crash. The novel is set in virtual reality, pages, files, folders, windows, and screens have been replaced by interconnected 3D environments.
But the term has been used in tech circles by investor Matthew Ball. He has written a series of blogs on Epic Games' long-term business strategy, looking at the evolution of Fortnite and its Unreal Engine platform.
In October 2021, when Mark Zuckerberg announced that Facebook was changing its name to Meta, the concept of the metaverse became known worldwide. At the launch, Zuckerberg presented a video showing how he met his friends in augmented reality.
HOW DOES The METAVERSE IMPACT HR?
Imagine that the next virtual receptionist you hire will be a 3D avatar based on artificial intelligence, greeting visitors from his digital office. How will it seem to you? This is indeed a projection from the future of augmented reality. In the short term, "metaverse" technologies will likely focus only on hybrid work models, which companies are already working on.
Augmented and virtual reality could enable remote workers to connect in more immersive ways than Zoom, the real effects of the metaverse will be seen in onboarding, collaboration, and training.
At a time when attracting and retaining talent is a challenge and a constant competition, metaverse serves as a key enabler to not only build a company's brand but also to create an engaged and productive workforce. It provides support for the entire employee life cycle, from attraction to recruitment, onboarding, development, and retention.
ATTRACT TALENT THROUGH METAVERSE
It is the native digital generation, for whom the content is a click away and, for this reason, it seems that it does not have the patience to go deeper with certain topics. Young people love the edutainment area and it's no longer enough to just deliver some content to them. You also have to put on a bit of a show, and keep them involved. Attracting them to companies is not exactly easy, and from the role of a recruiter, it's important to discover the strategies of recruitment, retention, and training, so that they meet their expectations.
For example, during a career fair, you can give them 3D access to an arena where they will have an avatar and can explore job opportunities and interact with different elements on the job platform.
Another way to travel through augmented reality with Gen Z is the job description (JD). It evolved from a text-based document to an image-based document, and then to video. The next logical step in this evolution is 3D experiences that present a day in the life of an employee.
RECRUITMENT
The challenge will be to provide a new and complete candidate experience. Artificial intelligence and virtual reality are already part of the tools used in certain recruitment processes, in particular, to assess the skills of candidates (role-playing games, virtual escape games, etc.), but also to enhance the employer brand through experiences of "discovery" (such as a virtual tour of the company headquarters, etc.).
In the metaverse we go beyond the video interview to provide access to an augmented experience, in a universe where we can combine a virtual interview, using an avatar, gamification for evaluating soft skills, AI, and multilingual experiences that favor the internationalization of recruitment.
Metaverse interviews allow you to accurately assess a candidate's behavior while saving a significant proportion of the costs associated with a normal recruitment process.
Indian startup Incluszon claims to have a platform in the works that allows interviewers to assess a candidate's level of confidence. The Microsoft Mesh platform is expected to evolve from avatar-based interviews to real-face interviews in virtual settings.
ONBOARDING
New colleagues have to read a record number of PDF files in their first days in the company, in order to know certain company values ​​and rules. Most of the time, however, they want to skip this tedious step. If PDFs were replaced with experiences where employees can walk around their future office, meet and greet their colleagues, and take interactive orientation courses, people would be much more interested.
Hyundai Mobis has designed a new experience for employees in the metaverse. They chose from a number of European cities and enjoyed a two-hour journey online via YouTube Live. The trend towards using third-party platforms suggests also the need to clearly set limits on how employee data is captured, processed, and saved on metaverse.
Training
There is research that shows that training in the virtual world, as opposed to training in the classroom, has significant advantages (learning by doing, opportunities for differently skilled employees, visual stimulation, etc.). Another advantage of the metaverse in learning and development is that it essentially works as a social platform. Employees can participate in simulations and interact with each other during training. This way they stay connected and build relationships through personalized avatars.
Metaverse offers financial institutions an opportunity to train their people through simulations in the virtual world. In partnership with "metaverse learning" specialists, companies can introduce gamification elements that better engage the employee, thus reducing the time needed to learn/develop new skills.
RETENTION
Retention is perhaps one of the biggest challenges in your HR activity, and you are still looking for solutions. Metaverse can be an effective solution to this problem. Last August, Meta launched Horizon Workrooms, a collaboration platform that allows employees to work together using avatars. It works both on VR as well as on the web and boasts features like a mixed-reality desk and keyboard tracking, hand tracking, remote desktop streaming, video conferencing integration, and spatial audio.
AI-based avatars can be programmed to take over repetitive tasks, freeing up humans to handle more complex tasks. Avatars can mimic human behavior with great accuracy, so Metaverse can also be used for rewards and recognition.
HAYS, THE FIRST RECRUITER TO ADOPT METAVERSE
The global leader in recruiting studies the trends and analyzes the practices and technologies that organizations are adopting, as well as what employees are looking for when they search for a new job. All signs indicate that Metaverse will play an increasingly important role in the job market. Considering that Hays is recruiting people to handle the future of technology, the company announced in March 2022 that it has become the first recruitment agency to develop an office space in the metaverse.
We've gotten used to hosting meetings via camera, an experience that has actually bridged the gap with those working in other locations. As you can see in the video, Metaverse can bring back the opportunity to sit shoulder-to-shoulder with your colleagues, but from the comfort of your location. It will also be possible to conduct meetings, including interviews, says Alfie Whattam, UK&I National Lead – Hays Software Development Recruitment.
There are numerous challenges that the metaverse as a technology must overcome before it can be used in the cases mentioned above. These relate to hardware requirements, data privacy, regulations, and general reluctance to work with new technology. But it is important to be open to this experience, which can be the future solution for attracting and retaining talent.
Sources
https://recruitee.com/articles/metaverse;
https://www.forbes.com/sites/forbestechcouncil/2022/06/17/the-metaverse-a-new-frontier-in-talent-engagement/?sh=3c1d1a883523;
https://www.hays.com.au/it/blog/-/blogs/hays-becomes-the-first-recruiter-to-enter-the-metaverse;
https://www.linkedin.com/pulse/what-would-recruitment-like-metaverse-isabelle-bastide;
READ ALSO: