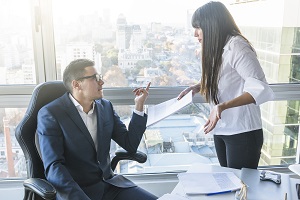 In communication, the direct and honest argue often brings more benefits than you might think. If you write a sincere message to the one who directly affects your work, what would you say? How much gratitude does it contain and how much reproach?
A good exercise, if you want things to change for the better, is to write what you want to convey, then decide what is important and what is not in your message, what could be the triggering factor for the interlocutor to understand and take the attitude in the desired sense.
Employee vs. Employer
You are an employee and your frustrations are often directed to the employer – boss, owner, company in general. What are the biggest reproaches? Do you think you should be grateful for a stable job or the company that, without you, could not resist into the market?
Dear employer,
When did you ask me last time how do I feel in your company? When did you get the problem of an assessment that would result in a salary adjustment? You remember me if I let you know I want to go and you look puzzled and upset. But when I come up with concrete proposals for things to be good, either the message does not reach you, or you tell me that you think and I'm executing.
You say you pay me for my work, but do you know what I do and how do I do? What are the efforts I have to make, in addition to the famous job sheet, so that I can do my job? A job is just a job, but the value it gives to you the work makes you to do more effort when it's recognized. In vain, I am loyal to you and I try to continually develop myself if, when the chance of a promotion occurs, you bring other people to be bosses because I know how to do my job anyway.
How can I be grateful for the job you give me if for you I'm just an easy-to-replace wheel? How the competition not to attract me with a better salary and the promise of a good work environment if you always tell me to be patient that I will be rewarded if my work adds value, but this never happens? Why don't you respect me as a business partner and always treat me with superiority?
***
As an entrepreneur or CEO, do you have reproaches for your people? Are your people or your employees? What would you like to tell them if you had a meeting with each other?
Dear employee,
To be able to pay your salary, to raise your salary, to provide you with benefits and with professional trainings, you only have to do your work. I am not your enemy, the greedy master who takes advantage of your work. We both pull in the same direction and things will be good for everyone.
You come to work and then go out and drink your coffee. You leave for lunch and come back after 2 hours. Then do overtime because you cannot finish your job and you blame me. But at the end of the month I have to give you the salary anyway, even if you did your job well or not.
I invest in you and in your professional development, and in four months you go to the competition. You are extorting me with your resignation to raise your salary, but you don't want to make your work more efficient so I can pay you better. You reproach me that I don't want to know how hard it is for you, but you write on Facebook instead of coming to talk. You want me to let you plot my business strategy, but if things get complicated, you leave and let me to resolve the situation. Respect should be mutual.
Candidate vs. recruiter
You saw the right job, you applied and you got the job interview. Many recruiters make the same "mistakes". What would you tell the person from the HR department?
Dear recruiter,
Have you ever considered that you could know better a person if you overcome the standard questions? That maybe, if I'm not suitable for this post, I would be good for another, so would it be nice to leave a good impression and give me feedback, even it is negative?
If you contact me (the job market is tough and there are fewer available specialists), make sure that I have a minimal connection with the job or at least trust me if I tell you that I may not be the right person. Don't call me for a meeting just to check out a quantitative target, like a number of previously established candidates. The time is precious, for both of us.
Be honest and let me know from the beginning with who the interview is, if I should give a test, how many stages are. And don't expect me to ask for a junior salary if I'm over 10 years of relevant experience and the job is for those with my profile. It is easier for everyone to present from the beginning the allocated budget – net salary and benefits. In this way I know if I'm interested or not and no one's losing his time.
I know you want to figure out what kind of person I am, but please do not ask too personal or discriminatory questions. It's not professional and you'll just make me run away.
***
You meet hundreds of candidates. You scan CVs and give a lot of calls, write emails and recruit, then take it all over again because the new employee resigns after two months. What would you tell the candidate to make both work easier?

Dear candidate,
You saw the job ads. Please do not ask for details if you have a link to all available job information, just click it. Thank you for your interest in the organization, but do not send your resume in which you have 2 years of experience in the administrative field if the job is available in IT and requires +5 years of proven work. And do not call me to reproach me that I did not call to invite you to an interview.
Try to overcome the small grammar problems in the resume. This is respect, even though in your work you will not have to teach language classes to anyone.
If we set up together a day and an hour for the job interview, at least let me know if you changed your mind. Or if you're late. And, please, do not call me the next day to ask if I hire you, a recruitment process involves more interviewed persons and more time to make decisions.
Before you ask directly about the salary (if it was not already specified in the ad), try to pretend to be interested in what I am telling you about the job and the company. Do you want the job you applied for? Why don't you read the requirements before the meeting or at least what the employer does? As I prepare for the interview, I expect you to do the same.
Things move in the right direction if people collaborate, understand and admit the other's perspective. Who do you want to send a message that will improve your professional life?
You could also be interested in:
Labor Market in 2019: Face the Challenges!
The Organizational Culture, Competitive Advantage in Recruitment