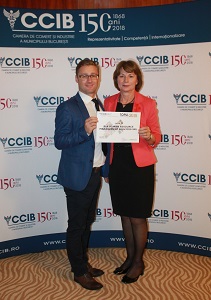 BIA HR
, a pioneer of professional human resources services in Romania, with more than 25 years of expertise in the field, is collecting the fruits of the professionalism and passion it has demonstrated through its recognition in the business environment.
The results obtained in 2017 classify our company on the 6th place among the best companies from the Top Companies of Bucharest 2018, in the category of services we offer, top established by the Chamber of Commerce and Industry of Bucharest.
This fact was certified by the award ceremony of the Bucharest Top Companies Gala Awards, which took place on Wednesday, October 31st, at the Intercontinental Hotel, Ronda Hall, starting at 18:30. Leading personalities from economic, academic and diplomatic space in Romania, along with the managers of the best performing companies in Bucharest and representatives of the media attended the event.
The 6th place (an advance compared to the
position 9 obtained 3 years ago
) is all the more meritorious as the total number of companies that have fulfilled the eligibility criteria and who submitted the balance for the previous year reaches 41,987; the top laureates were designated by a complex methodology, implemented uniformly by the chamber system, at national level.
In determining the final rankings, indicators such as: net turnover, operating profit, operating profit rate, efficient use of human resources and employee capital, calculated on the basis of 16 items extracted from the financial statements submitted by companies to the Ministry Public Finance and the National Trade Registry Office were considered.
You could also be interested in: